Bangkok Chinatown always appears in Bangkok travel map under name Yaowarat. Bangkok Chinatown is always found in travel guidebooks, hotel concierge recommended, travel blog, YouTube channel and travel program on tv show.
Great reasons to visit Bangkok Chinatown
1.Bangkok Chinatown is spiritual center.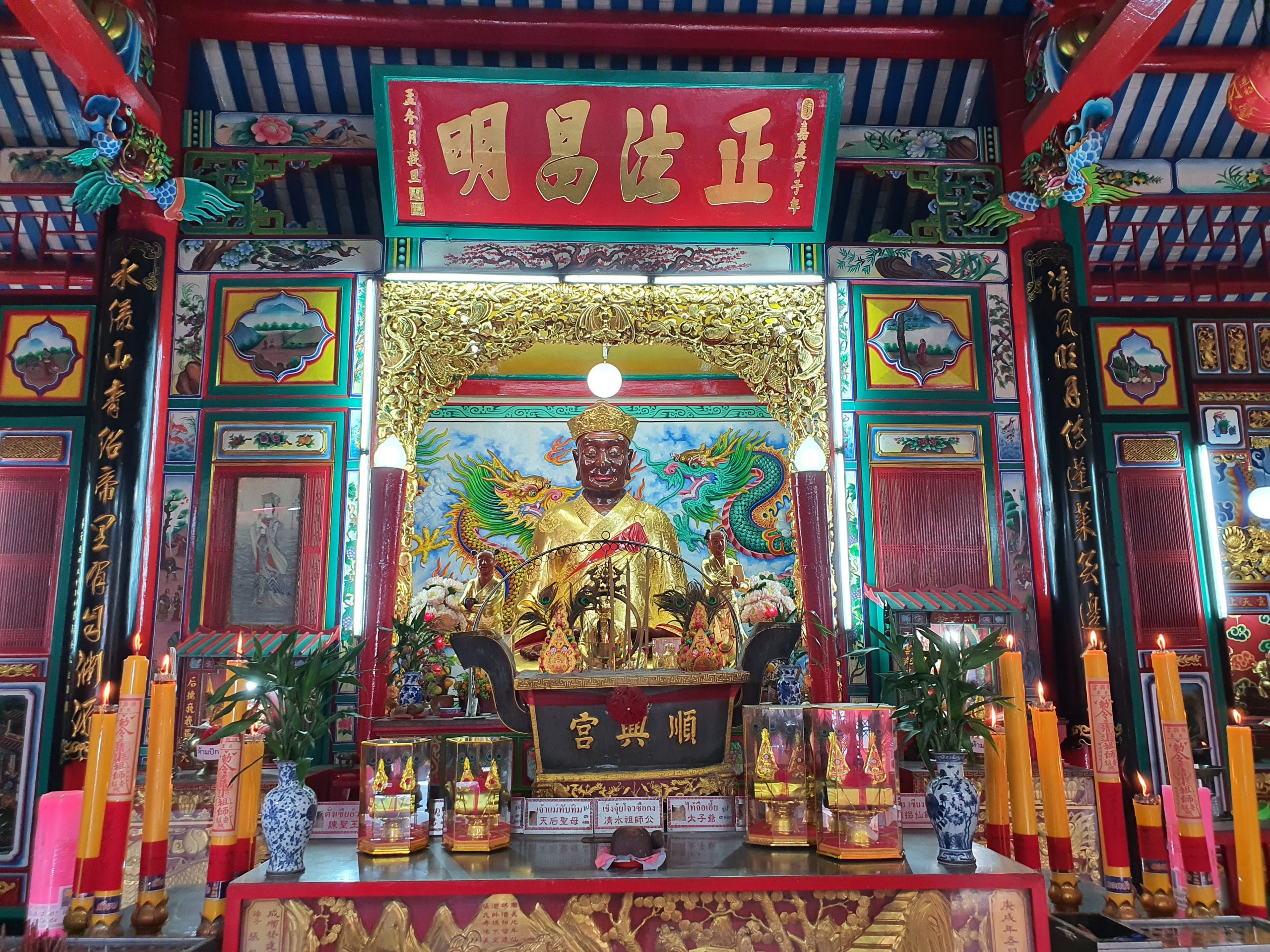 There are over ten interesting shines. There are Vietnamese Shines, Chinese Shines, and Thai Buddhist temples. It is a very colorful place. Visitors could take part with by the worship the Chinese Gods. You allow for taking pictures and walking around. This place is very vibrant and colorful. The lantern, the architecture and art of Buddha statue are unique and see the strong influence from China.
2.Bangkok Chinatown is one of the oldest oversea Chinese settlements.
It has a long and rich history that dates back over two centuries. Chinese immigrants, mainly from the Guangdong province in southern China, began settling in the area during the early years of the Rattanakosin Kingdom in the late 18th century.
You could see the old building. The old way of living that did not exist in the western world but still existing here. A couple steps in the Bangkok Chinatown, you could see the many differences in the modern world mixed in this village.
3.The local people going to Chinatown for yummy food.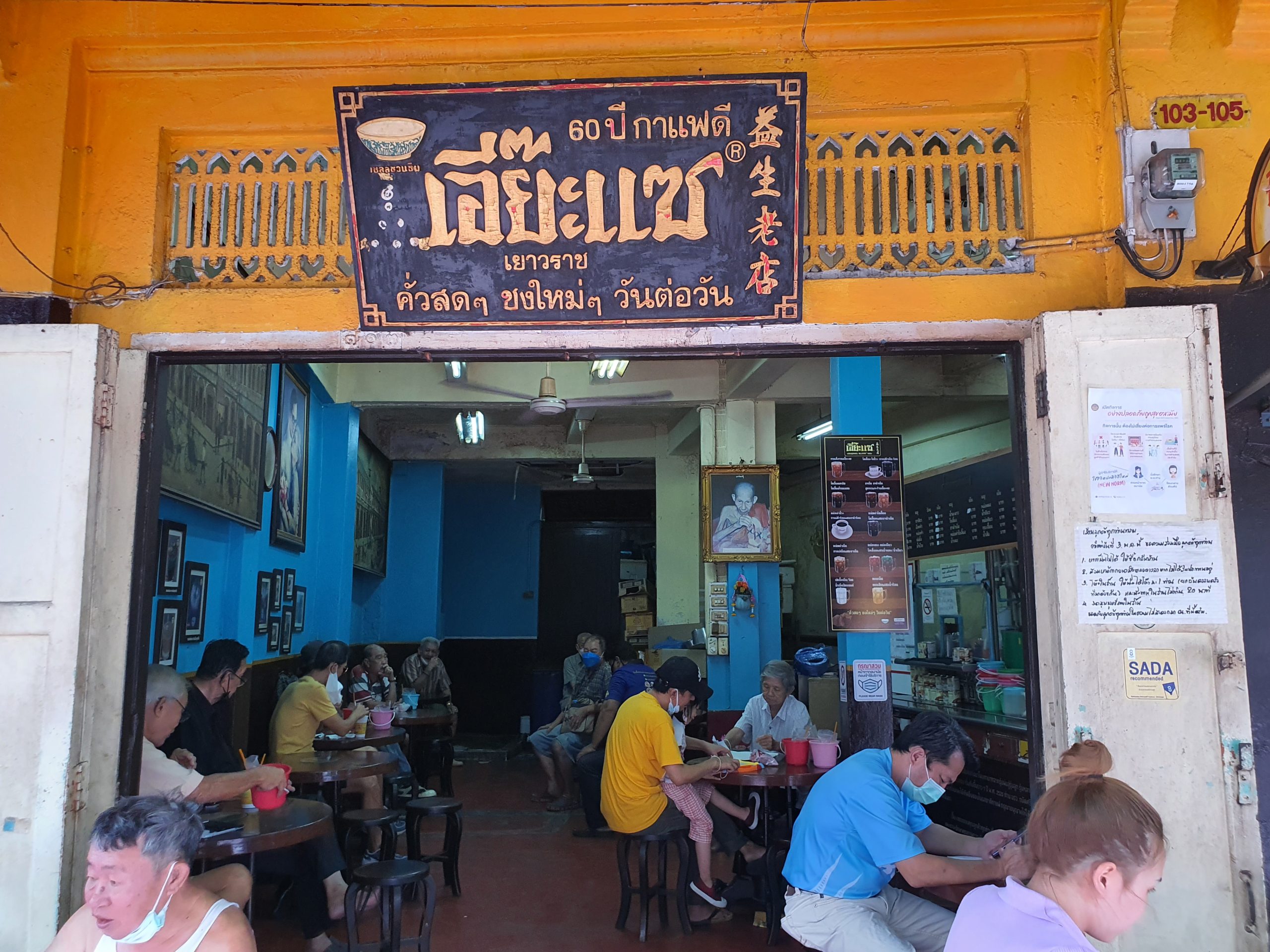 Ready meal could be eaten at the restaurant or take home. The famous restaurant is serving luxury Chinese food such as shark fin soup, bird nest soup, fish maw soup , cook fresh fish and many more. The street food or reasonable price has also existed in the market such noodle, fruits, chestnut, pomegranate juice, fish ball, and ladnar. Chinatown is a perfect place for a Bangkok food tour.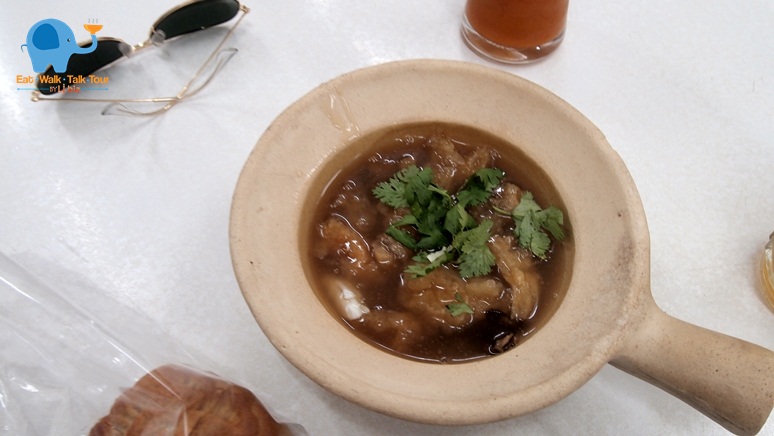 Beside main meal, Bangkok Chinatown is also well known for herbal drink and sweet. Everyone love dessert without a doubt, especially in Chinese style such as Moon cake and Chinese cooking over 20 types of them.
4.Finding the best cooking ingredient.
 The wet market at Chinatownoffer fresh pork, fish, shrimp, chicken and beef. The Chinese love to eat pork and marine life products. Dry ingredient such as Lor Hung Gua, dry much room, shark fin are also easy to find. Many shops show the product in a big container. The local can select and pick the fresh herb by your own.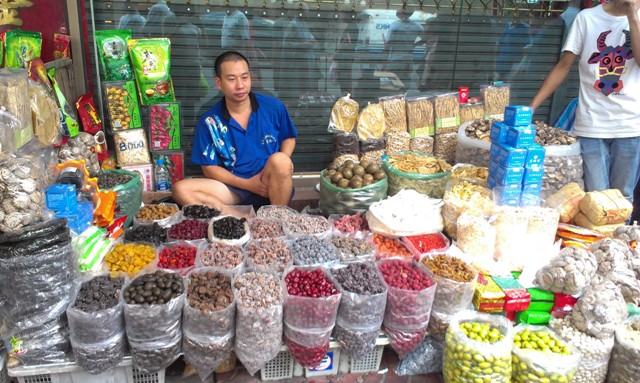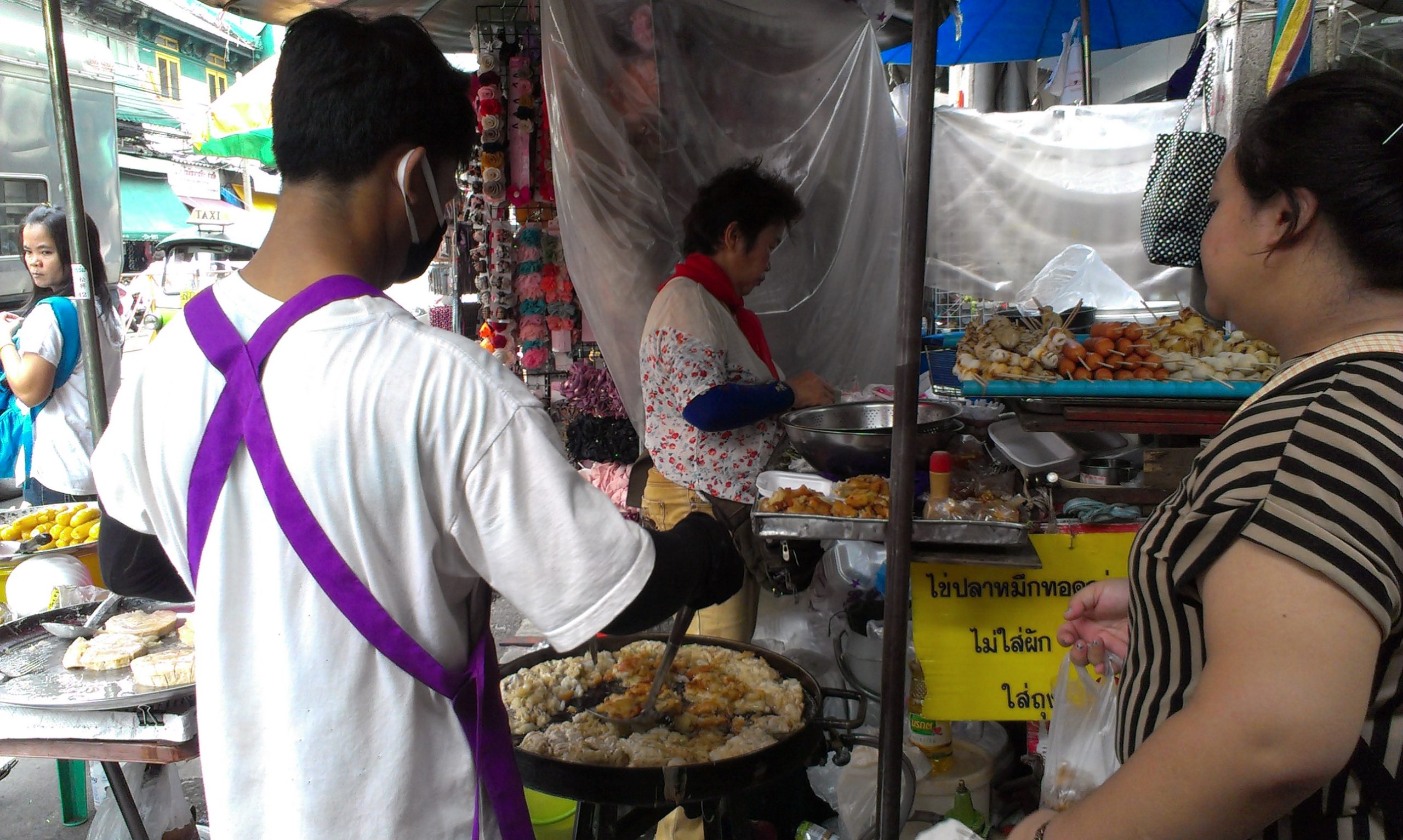 5.this is good place for taking photos
The old people, colorful shop, food, monks and gold shop are just a sample of idea that you could say hi and take pictures. Some wedding studios also come here for early morning to get good shot with a colorful business sign. Sound Interesting right.
6.Bangkok Chinatown could be a starting point that you connect to shopping place at Pahurat and Sampheng (little India).
You could go shopping at a souvenir, gift shop, and fabric. It is a good place to find gift for holiday season.
7.Festivals and Celebrations
Chinatown hosts several lively festivals throughout the year, attracting both locals and tourists. The most famous festival is the Chinese New Year, which features dragon and lion dances, parades, firecrackers, and vibrant decorations. Other festivals like the Vegetarian Festival and the Mid-Autumn Festival also showcase traditional Chinese customs and celebrations.
Chinese herbal medicine shops
Chinatown in Bangkok is well-known for its vibrant Chinese herbal medicine shops. Here, you can find a wide variety of traditional Chinese herbs, remedies, and medicinal products.  If you are interested in Chinese herbal medicine, Chinatown is a great place to explore. You don't need to fly to China to get those herbs , they bring everything ready at this place for you to buy back home. Here's what you can expect:
Herbal Medicine Shops: Along the main streets of Chinatown, you will come across numerous herbal medicine shops. These shops display an extensive range of dried herbs, roots, leaves, powders, and other medicinal ingredients used in traditional Chinese medicine.  You can find ingredients for various purposes, such as boosting immunity, improving digestion, relieving pain, or promoting overall well-being.
Traditional Chinese Medicine Clinics:
In addition to herbal medicine shops, you will also find clinics or pharmacies specializing in traditional Chinese medicine. These establishments offer consultations with traditional Chinese medicine practitioners who can provide personalized herbal remedies and treatments based on your specific health concerns.
Herbal Tea and Tonic Shops:
Chinatown is home to many shops selling herbal teas and tonics, known for their health benefits. These shops often have a variety of ready-to-drink herbal concoctions that are believed to promote vitality and balance in the body. You can sample different herbal drinks and find the ones that suit your needs.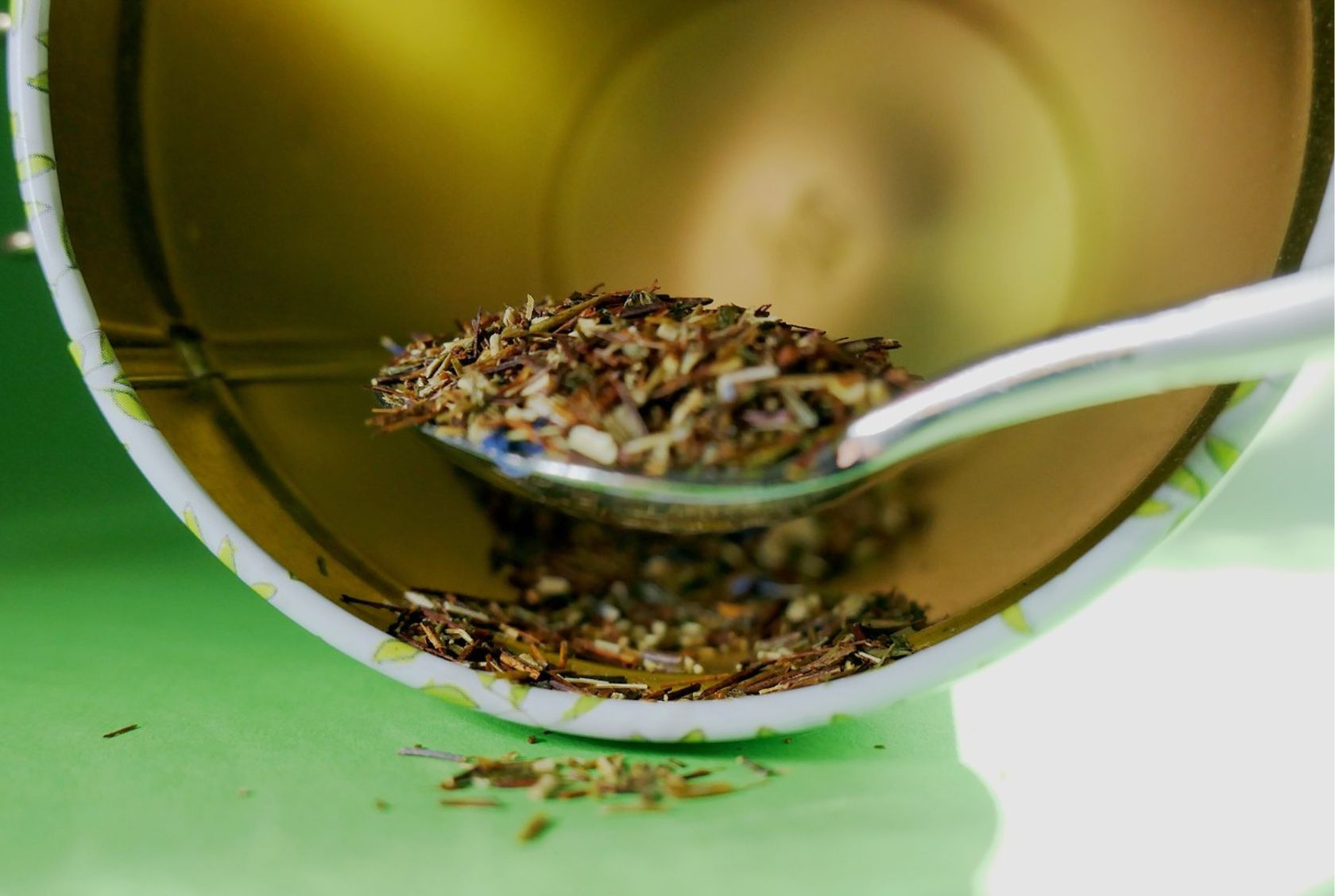 Remedies and Supplements:
Alongside herbs, you can find a range of Chinese herbal remedies and supplements, such as pills, capsules, ointments, and liniments. These products are often used to address specific health issues and are based on traditional Chinese medicine principles.
When exploring the herbal medicine shops in Chinatown, you may find experienced herbalists or shopkeepers who can offer guidance and recommendations based on your health concerns. They can explain the uses and properties of different herbs and suggest appropriate remedies or preparations.
It's important to note that while traditional Chinese herbal medicine has a long history and is popular among some individuals, it's always advisable to consult with a qualified healthcare professional before trying any herbal remedies or treatments, especially if you have pre-existing health conditions or are taking medications.
Exploring the Chinese herbal medicine shops in Chinatown can be an interesting and educational experience, giving you insights into the traditional healing practices of Chinese culture and the opportunity to find herbal products that may support your well-being.
Bangkok Chinatown Shrine & Temples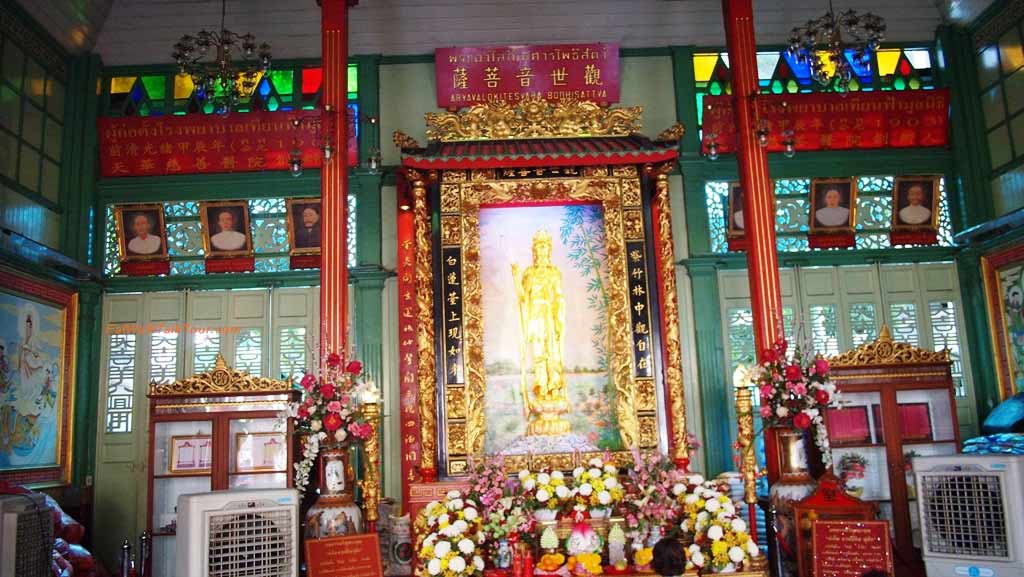 The integration of Chinese and Thai cultures in Bangkok's Chinatown leads to a vibrant cultural exchange. Chinese immigrants bring their rich heritage and traditions, while also embracing Thai customs. This fusion of cultures results in a diverse and dynamic community that celebrates both Chinese and Thai traditions.
The local come here with various reasons as well but many of them are here since merit making or pay to superstitious gods. Is this whatyou guess?  They believe this can bring luck, happiness and successful.  Somehow, this is the way that Thais prefer to do in order to gain encourage, hope and strong spirit to move on with life.
Some Shine has a special propose that people has for their niche requirement  such as ask for baby, meet a soul mate, raise good kids for instance. You can see shrines and temples around Chinatown area because
Teanfah Foundation (มูลนิธิเทียนฟ้า)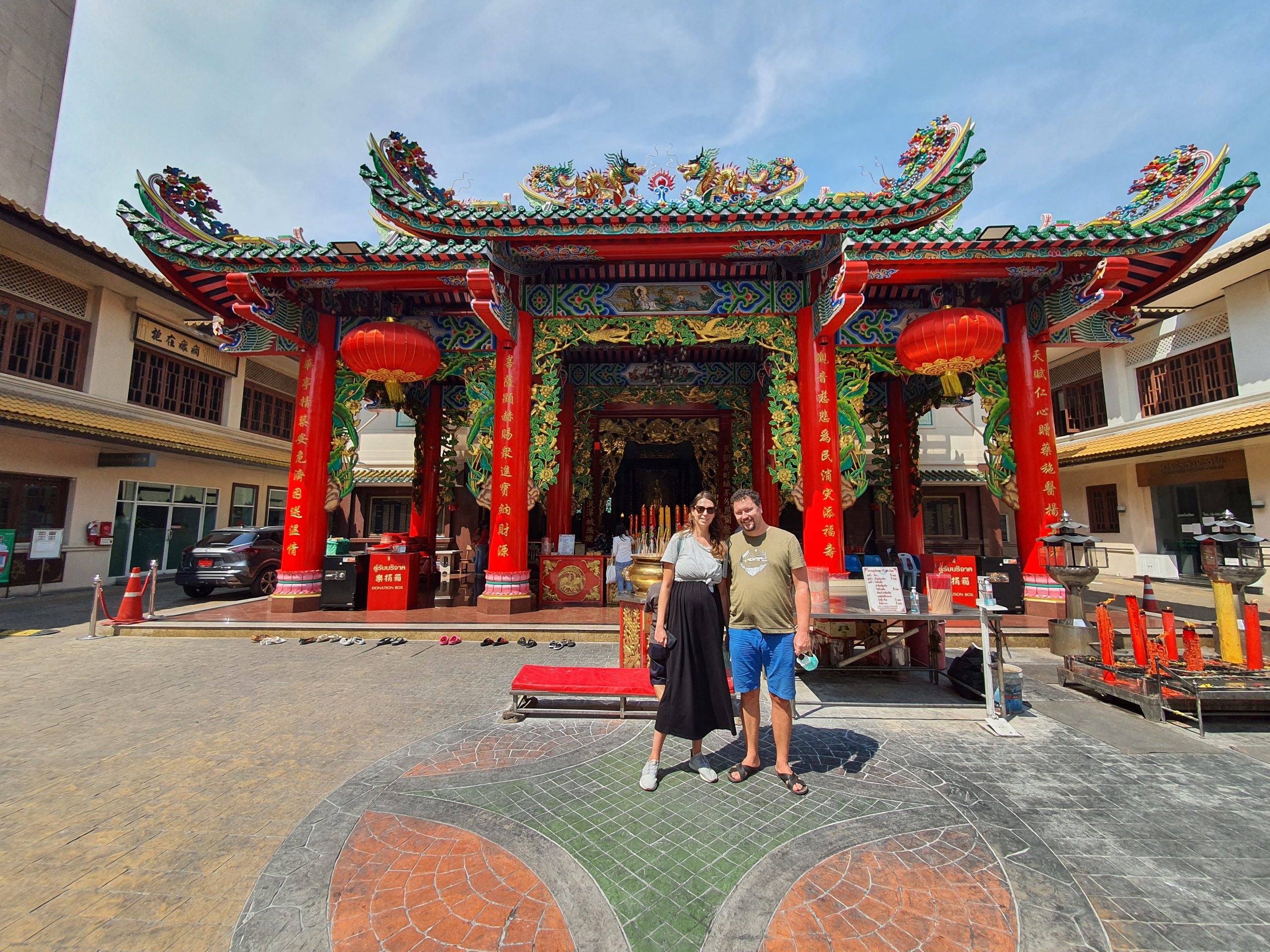 This is a place which has Chinese shine and hospital in the same complex.  The hospital is run and use Chinese medical way to service to the illness without charge. Amazing to see it run over 80 years. It show good will of the immigrant to support one another and the local.  There are Goddess of mercy   (Kwanyin Goddess ) which many who has relative who ill come to pray for their love one get over
Choa Sua Kong Shrine (ศาลเจ้าโจวซือกง)
This place is that people come to pay for family matter such as to meet soul mate (bring 5 type of fruits) *** I knew 3 persons that meet their soul mate after they visit this place.  People also come to pay for good help and easy to raise their child.  Do you want to know where it is located yet?  It is close to Talad Noi. Just find Talad Noi and ask people in that area
Kwan Ohu Shine (ศาลเจ้าพ่อกวนอู)
The shine located on Yawarat 11 or Soi Islaranuphap near the old market.  This is a place for business owner or leader come to make a which for good future with good subordinate to help achieve their goal. I suggest HR department and all recruitment come here too. Human resources problem is a big issue start from blue color up to management level.
Liu Poon Ash Gong Shine (ศาลเจ้าเล่าปูนเถ้ากง)
Visitor should pay respect to Toloaee (ตั๋วเล่าเอี๊ย) This is one of the oldest shine where people come to pay respect. The Gods protects our land and business. When Thai and Chinese traveled by boat , local people always come here to pay respect to Gods to make them luck .
Bangkok Chinatown is lively and vibrant throughout the day, so you'll be able to immerse yourself in the local culture and enjoy the culinary delights regardless of the time. Choose a time that suits your preferences and allows you to make the most of your visit.
There are nearby interesting places to visit such as temples, Chinese Shine, and busy markets. If you want to experience the vibrant nightlife and bustling street food scene, visiting Chinatown in the evening is a must. The streets are filled with food stalls, local vendors, and the lively ambiance that Chinatown is known for.
How is weekend in Bangkok Chinatown ?
Weekends tend to be busier, so be prepared for larger crowds and longer queues at popular food stalls.  It is not just a place where local people get in and out. Thousands of tourists carry a camera around for taking pictures with highlights or even selfie there. Bangkok Chinatown is one of the major attractions that everyone should visit.
Temple in Bangkok Chinatown
Golden Buddha temple or Wat Tramirt .
This temple made by three friends. The Thais believe paying respect here is likely a chance to meet good friends. This is a must visit temple since it is one chance to see the Buddha statue made of 5.5 tons made of solid gold.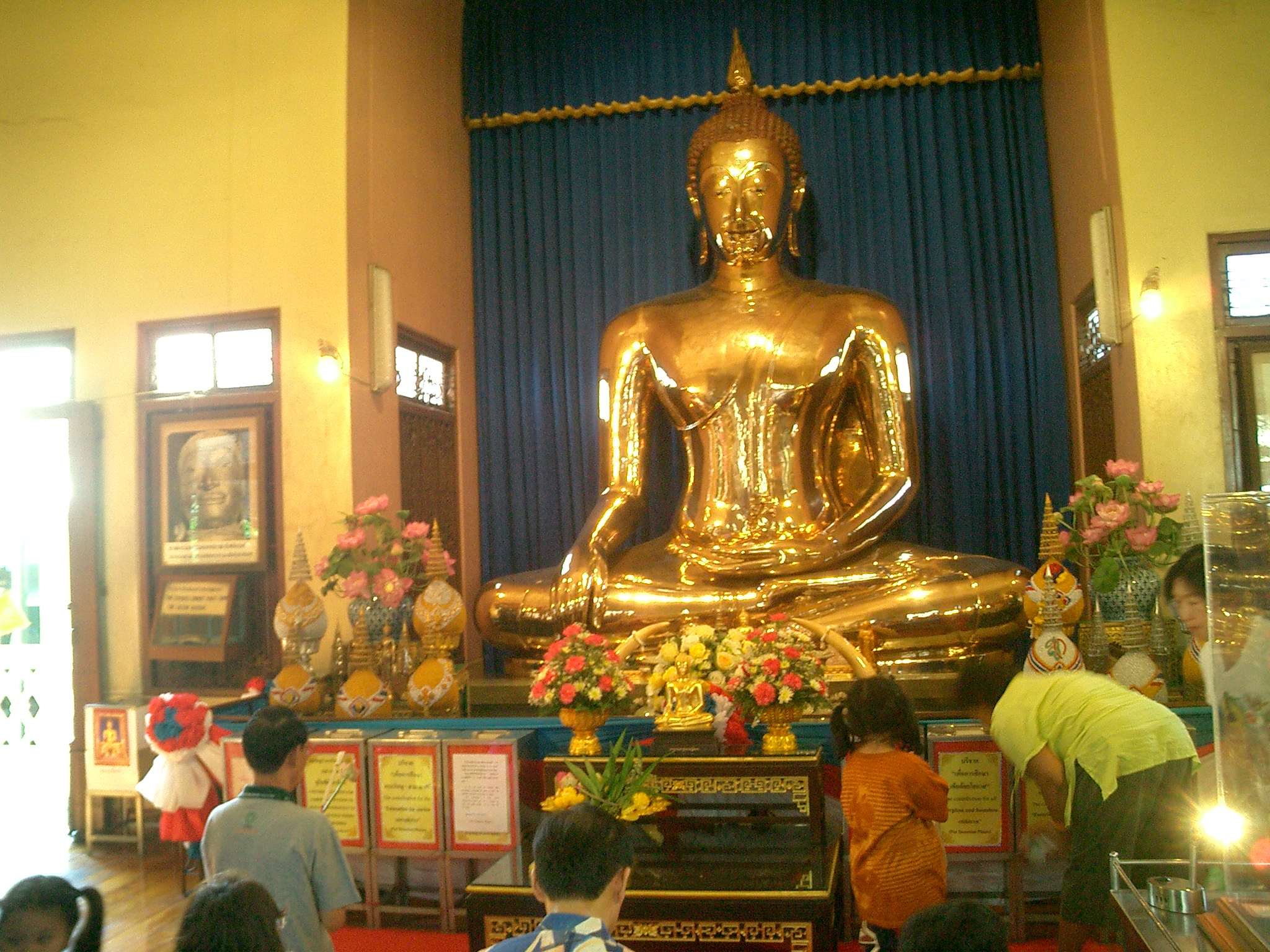 Wat Mangkon Kamalawat or Wat Leng Nei Yee
It has a long history, with records dating back to 2385 B.E. It underwent a name change in 2466 B.E. to honor King Rama IV. The name Wat Mangkon Kamalawat signifies the auspiciousness of King Rama IV's reign, while Wat Leng Nui Yee translates to "the temple with bright and beautiful light" in Chinese. It features stunning architectural designs, intricate decorations, and beautiful religious statues. The temple is often bustling with devotees, tourists, and worshippers, especially during important festivals and holidays.
Known as the "Crocodile Temple," this temple is located on the banks of the Chao Phraya River, not far from Chinatown. It is famous for housing live crocodiles within its grounds. Visitors can observe and feed these reptiles under the supervision of the temple's monks.
Wat Prayurawongsawas Worawihan
Located just outside of Chinatown, this temple is known for its impressive white stupa and distinctive Chinese-inspired architecture. It is also home to a famous reclining Buddha image and offers panoramic views of the Chao Phraya River from its terrace.
These are just a few of the shrines and temples you can choose to explore in and around Bangkok's Chinatown. Each temple has its own unique features, religious significance, and cultural offerings, making them worth visiting to experience the blending of Thai and Chinese traditions.
Things to do and places to visit in Bangkok Chinatown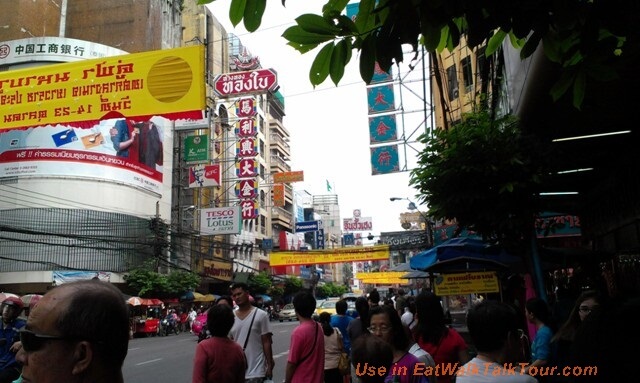 This is the main street of Chinatown and the heart of the neighborhood. Explore the bustling market stalls, shops, and restaurants along Yaowarat Road. Immerse yourself in the vibrant atmosphere and enjoy the sights, sounds, and aromas of Chinatown.
A narrow lane branching off from Yaowarat Road, Sampeng Lane is a bustling market street. It offers a wide range of products, including clothing, accessories, household items, and souvenirs. Get lost in the vibrant alleyways and enjoy the shopping experience.
Located near Wat Mangkon Kamalawat, this market offers a glimpse into the traditional market scene of Chinatown. Explore the narrow lanes filled with vendors selling fresh produce, spices, traditional Chinese herbs, and culinary ingredients.
Stroll along Charoenkrung Road, one of the oldest roads in Bangkok, and soak in the charming mix of Chinese and European architectural influences. Discover historical buildings, traditional shophouses, and hidden gems along the way.
Chinatown Gate (Odean Gate):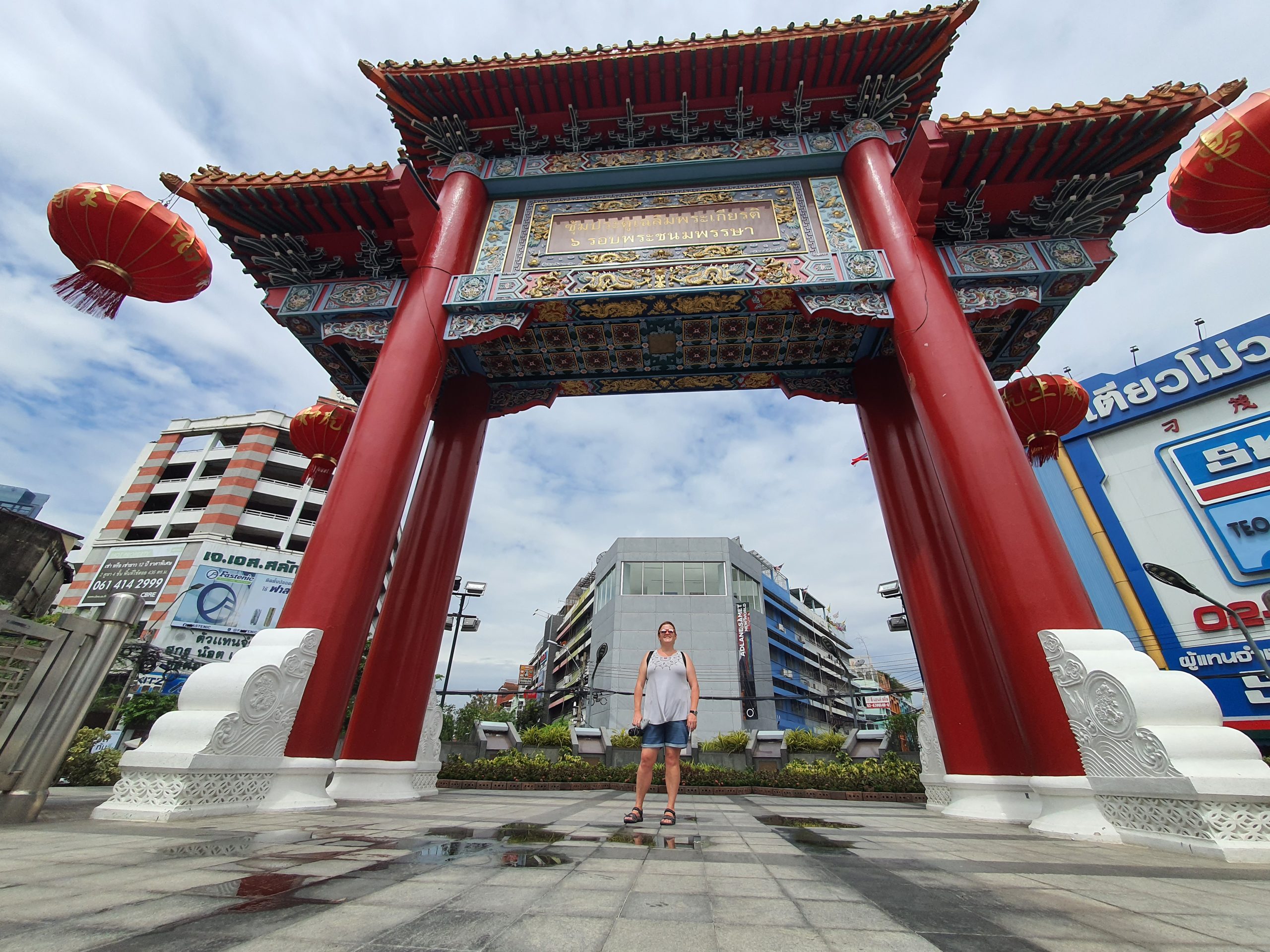 Don't miss the iconic Chinatown Gate, also known as Odean Gate. This grand entrance arch marks the beginning of Chinatown and is a popular spot for photographs.
This small alleyway off Yaowarat Road is known for its vibrant nightlife scene. Explore the bars, restaurants, and hipster establishments that have sprung up in recent years, adding a modern twist to Chinatown's charm.
Wat Phra Kaew and the Grand Palace:
Located just a short distance from Chinatown, these iconic landmarks are must-visit attractions in Bangkok. Explore the opulent Grand Palace complex and admire the revered Emerald Buddha statue at Wat Phra Kaew.
Wat Arun (Temple of Dawn):
Situated on the banks of the Chao Phraya River, Wat Arun is known for its stunning prang (tower) with intricate ceramic decorations. Take a boat ride across the river to visit this majestic temple and enjoy panoramic views of Bangkok's skyline.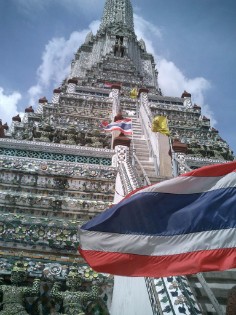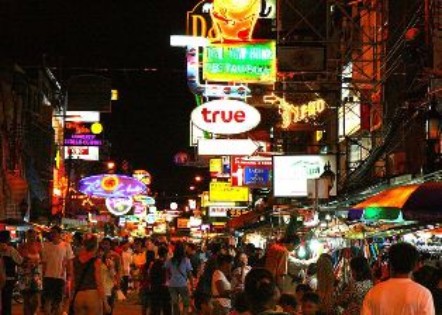 Head to Khao San Road, a famous backpacker's hub known for its lively atmosphere, street food, bars, and shops. Explore the vibrant street market, grab a drink, or sample some local delicacies.
Visit the Jim Thompson House, a museum dedicated to the American businessman who revived the Thai silk industry. Explore the traditional Thai teakwood house and learn about Thai art and culture.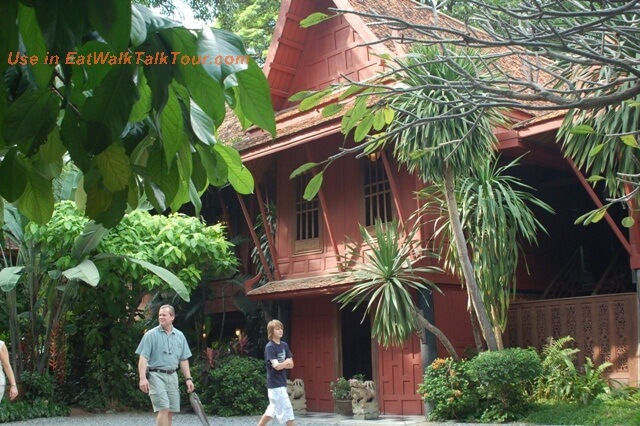 Asiatique The Riverfront: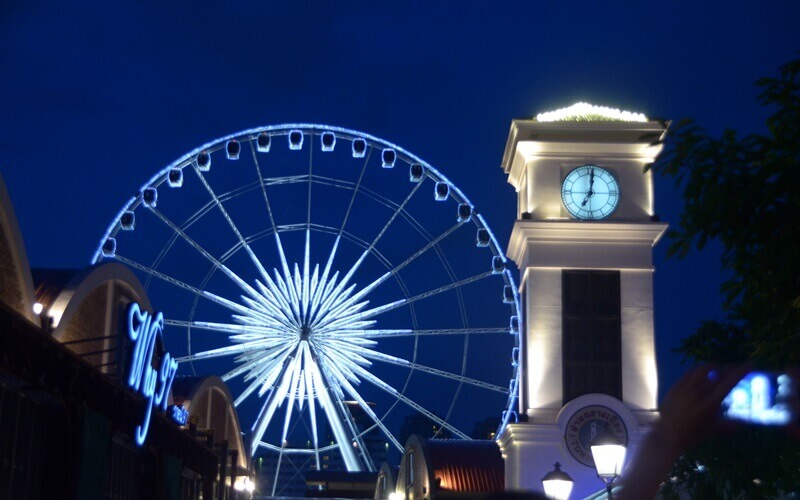 Located on the banks of the Chao Phraya River, Asiatique is a bustling night market and entertainment complex. Enjoy shopping, dining, live performances, and the scenic riverfront ambiance.
Wat Suthat and the Giant Swing
Just a short distance from Chinatown, you'll find Wat Suthat, one of the oldest and most important temples in Bangkok. The temple features stunning murals, exquisite architecture, and a peaceful atmosphere. Adjacent to the temple, you'll find the iconic Giant Swing, a towering red structure that was once used in an ancient Brahmin ceremony.
Situated near the southern end of Thanon Song Wat, Museum Siam offers interactive exhibits that provide insights into Thai history, culture, and society. It's a great place to learn about the country's heritage and engage in hands-on activities.
Cross the Chao Phraya River and explore the neighborhood of Thonburi. Visit attractions such as Wat Arun, the Royal Barge National Museum, and the floating markets along the canals (khlongs).
Bangkok's Old Town (Rattanakosin Island):
Explore the historic area of Rattanakosin Island, which houses many of Bangkok's significant temples, including Wat Pho (Temple of the Reclining Buddha) and Wat Suthat.
Take a leisurely walk around the neighborhood and soak in the cultural and architectural gems. Thanon Song Wat or 'Two Temples Road' is also a popular street there. There is local market you can explore for food , snacks, fresh products and handicrafts.
Do you find it interesting to visit Bangkok Chinatown?
In fact, there are more reasons to visit Bangkok Chinatown. Think no more if you like to interest in food, culture and people believe. Put Bangkok Chinatown into your mist visiting list.
If you find our article cheerful and encouraged to visit Bangkok Chinatown, why don't share our article.
If you have any comment or recommendation, we would love to hear from you.
How to go to Bangkok chiantown
Bangkok Chinatown or Yaowarat  is located close to Chaopraya River. It is situated in the Samphanthawong District, which is in the central part of the city. The main street of Chinatown in Bangkok is called Yaowarat Road, and it is the heart of the neighborhood. To access Chinatown in Bangkok by public transport, you have a few options as follow ;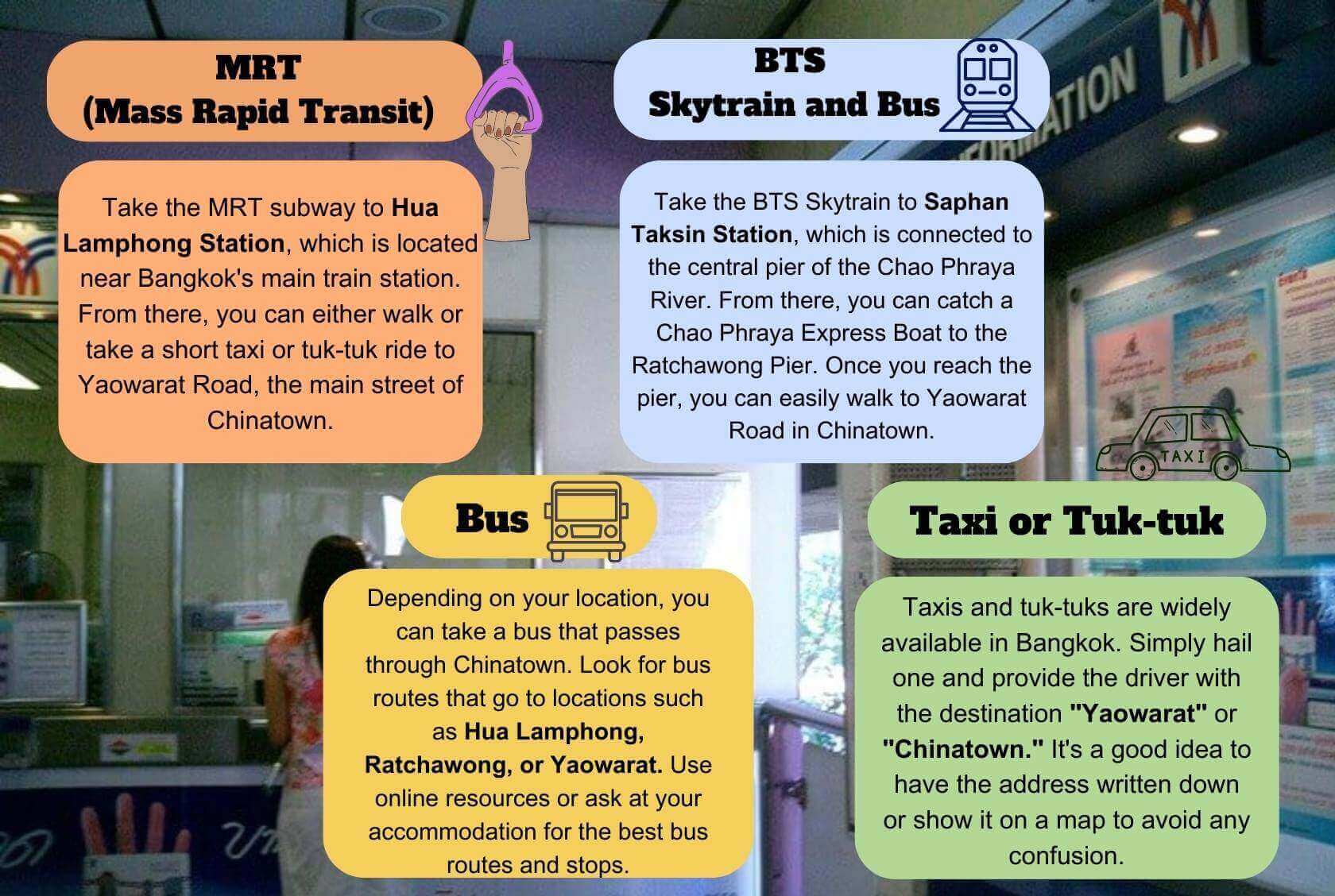 MRT (Mass Rapid Transit):
Take the MRT subway to Hua Lamphong Station, which is located near Bangkok's main train station. From there, you can either walk or take a short taxi or tuk-tuk ride to Yaowarat Road, the main street of Chinatown.
BTS Skytrain and Bus:
Take the BTS Skytrain to Saphan Taksin Station, which is connected to the central pier of the Chao Phraya River. From there, you can catch a Chao Phraya Express Boat to the Ratchawong Pier. Once you reach the pier, you can easily walk to Yaowarat Road in Chinatown.
Bus:
Depending on your location, you can take a bus that passes through Chinatown. Look for bus routes that go to locations such as Hua Lamphong, Ratchawong, or Yaowarat. Use online resources or ask at your accommodation for the best bus routes and stops.
Taxi or Tuk-tuk:
Taxis and tuk-tuks are widely available in Bangkok. Simply hail one and provide the driver with the destination "Yaowarat" or "Chinatown." It's a good idea to have the address written down or show it on a map to avoid any confusion.
Once you arrive in Chinatown, you can easily explore the area on foot. Yaowarat Road is the main street, but be sure to also venture into the smaller alleys and side streets to discover hidden gems within the neighborhood.
Note that traffic in Bangkok can be heavy, especially during peak hours, so plan your trip accordingly and allow for extra travel time.