Bang krachao is Bangkok jungle which is a perfect escape from city life.  Bangkok is like other city which is busy with people, car and high rise. Bangkok people are lucky to have a very nice place with a lot of trees nearby. Travelling less than 20-30 minutes out of the city center, you will reach Bang krachao. People come here for exercising and relaxing breeze and searching for a good meal.
Location of Bang krachao
Bangnamphung is a small village located in district of Prapradeang in Samootprakarn province. It may sound like very far away. In fact, it is very close to Bangkok. Visitors can get there by cab or a use sky train to connect with local transportation to get there.
Once you are in Bangnamphung, you could see high building of Sathorn and Silom area.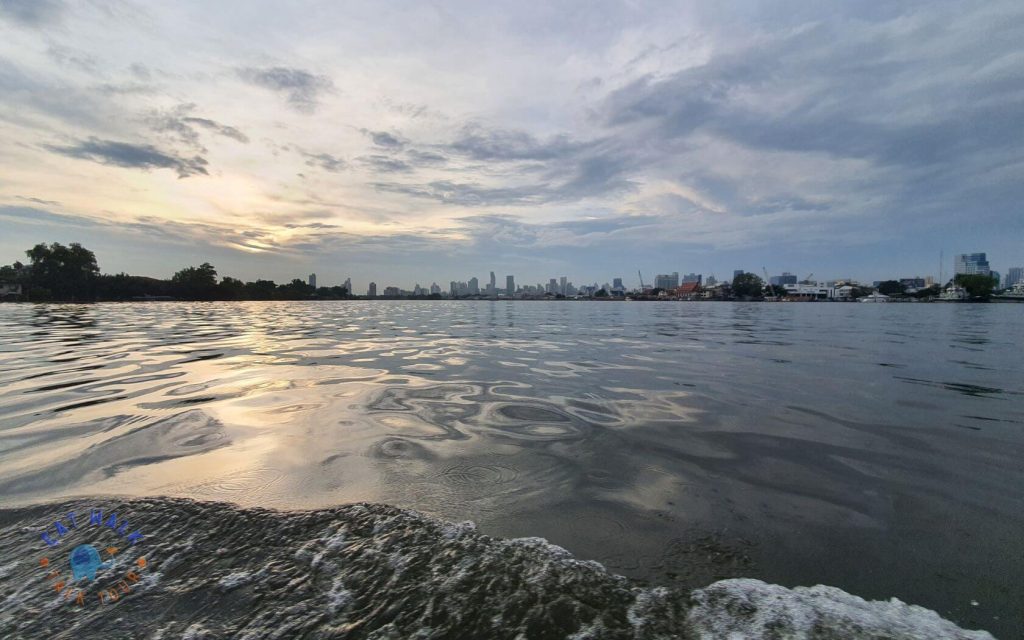 Bang krachao is surrounded by Chaophraya river and the shape looks like pork stomach. If you look bird eye view from google map, this area is in green color.  This place  has lot of trees since part of it is farm and preservation park. It is a urban area that to produce oxygen for our city.
Bang krachao is called as Bangkok jungle. There were a lot of plantation and mangrove since it has been just 10 kilometers away from the Choapharaya delta which can access the gulf of Thailand.
The area was declared as preservation area. Government is not allowed to build a tall building over 4 floors and a lot of law as regulation to make the building so there is not big industrial factory close by. They allow people to live, do plantation and small farm only.
In fact Bangkrachao is not part of Bangkok city. It is the part of the Samoot prakan province. Bangkrachao is a name of one of Tambon or city unit in province. In fact, this area has other tambon such as Bangkorbua, Bang Nam Phueng for an instant. This area is very close to Bangkok till you can see Bangkok high rise as a back drop .It is take just a minute across the minute to across from Bangkok to Bangkrajao by boat.
If you take a car ride from Bangkok city center within 30 minutes to cross the Bhumiphon Bridge you will easily to reach Bangkrachao as well. In the old day, people use the ferry to across the river. But now it is so convenient to go by car or take the BTS sky train connect with local transport and boat.
Award and Pride : The Best Urban Oasis of Asia in 2006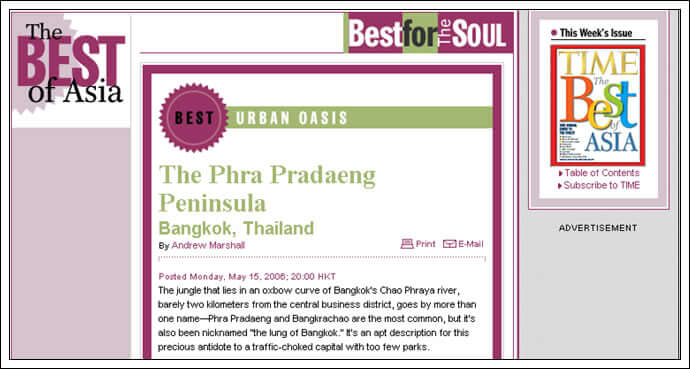 Koong Bangkrachao in Thai word is คุ้งบางกะเจ้า. It is so called lung of people who live in Bangkok.  Time magazine renounces this place as "The Best Urban Oasis of Asia in  2006 (พ.ศ. 2549)"
Thai and foreign tourist come here for biking and food. But the more I visit this place, the more things that I see Bangkrachao has to offer.
Let's check what is  best thing to do in here.
Highlight in Bangkrachao
1.Bang Nam Phueng floating market
In 1997, it was economy crisis. Many people lost their job. They return home from work in agricultural field. Bang Nam Phueng is farm land and preservation area due to the royal project of King Rama XI. Many people return to work in the farm. Later, the community began to set up the floating market and promote local market so called Bang Nam Phueng floating market which become an important landmark for the weekend.
Bang Nam Phueng floating market is located in the area of the temple of Bang Nam Phueng.  Merchant are local people and they bring their own product to sell. They have intention to make good product and sell at a very reasonable price that why this is a shopping heaven for Thai visitors.
Bang Nam Phueng Floating Market opening hours
The market operates only during the weekend around 08.00 -15.00.  During the long holiday, they market also operate.  In Thailand, the government has many holiday.
Food exploring at Bang Nam Phueng floating market
You can find normal food here which is similar to other market.  Thai food that every market has including Pad thai, Hoi tod, Somtam, Noodle, Boat noodle, friend rice , Tomyam.
Special food that Eat Walk Talk Tour like to recommend
Since Buay and I visit this market many times. We would like to introduce menus we like.
Marhor ม้าฮ้อ
Fresh pineapple top with sweet ball. That sweet ball is consists of sugar, peanut and mint pork.  It is a perfect refreshment idea.  It is one of the royal Thai snack that rarely finds in the market.
Location :  If you across the bridge and make left turn to the temple. The first intersection make  another left. The shop will be on the left.
Hoi Tod in Kanomkok pan
Hoi Tod is mussels mixed with flour and seasoning and eggs.  It is pan fired cooking which almost look like omelet. But this shop they cook in Kanomkok pan which make it as a bite snack . I like that it is more crispy.
Location of this shop along the canal
Fish cake grill (แจงลอน)
This menu is fish cake mixed with flour, coconut meat, spice, and long mean. It is not a fine mixed. You can see long been, and feel coconut meat. This is a kind of spicy snack that Thai love. But most of the time, it is deep fried.
Khai Plamook yang (ไข่ปลาหมึกย่าง)
Caramari egg wrap with banana leaves and grill. Then, dip with spicy seafood sauce.
Dancing or Karaoke in the garden
Beside food, old folk come to sing the classic song. I think it is fun.
Thai house in the garden
There are house surrounded by canal. I love the lobby area which is so relaxing with canal and farm surrounded. It is a very refreshing with nice breeze. You can buy Thai ice tea and also local snack called Maing come (เมี่ยงคำ) for refreshment.
Open time : 09:00-15:00
Admission fee : No
"Refreshment after drink fresh sugar sap with ice"
"Yummy sweet and creamy coconut ice-cream"
Over 1 kilometer passage , you could enjoy eating Thai food, snack, drink and shop at the Banamphueng floating market. A small floating market reborn and alive once the floating market was drug from the graveyard.
How to get to Bang Nam phueng floating market
If you travel from Bangkok city , you can reach there by taxi for around 30-45 minute or take MRT, ride a boat and biking to temple.
Address  98 Bang Nam Phueng, Phra Pradaeng District, Samut Prakan 10130
Location : https://goo.gl/maps/p8NDf6cNuAtYGto8A
Bang Nam Phueng Floating Market opening hours : Sat & Sun long weekend 08:00-16 :00
2.Suan Srinakhon Park (สวนศรีนครเขื่อนขันธ์)
This is one of the most famous park of the town. The tranquil city park features abundant green space, walking path , a lake and bird viewing platform. Within 40 rai or around  16 acres with variety of plantation and animal.  People come here biking , exercise, feeding fish, walking as well as bird watching.
This park is around 12 kms away from the floating market. You can bike or call for motorcycling cap for a ride.
Inside the park, the area is vast and very shady. The visitor can cycle around. There are many places to sit and relax and enjoy the nature.  You can buy fish food to feed the fish in the big pond. There are also nature trails and bird watching tower, which is highlighted where people come to take cool pictures.
Bird watching
Suan Srinakhon Park is a home of more than 100 species of birds, both local and migratory birds such as the Peregrine falcon, egret, blue bug catcher. salika bird Yellow-Headed Bulbul and purple grouse colorful It is a favorite of bird watchers. Most of these birds are classified as protected species under the Wildlife Preservation and Protection Act of 1992.
Animal observing
In addition, reptiles such as vipers, redheaded lizards, and pythons are also found that help maintain the balance of the ecosystem in the area. It controls some species and acts as a municipality that disposes of waste in the area.
Another group of animals that are most common is fish. such as carp, tilapia, tilapia, water-spouting tiger fish, needle fish, etc. from a variety of animal species found in Suan Sri Shows that this area is a suitable habitat as both a food source.
Best time to visit :
In the early morning   or late afternoon seems to be a very nice time to visit. Thailand is in the tropical zone.  I personally recommend to avoid the heat around 10.00 -14.30.
Open time : 06:00-19:00
Admission fee : No
Location :   https://goo.gl/maps/mAY2Cv9HnDoharBn6
Address : 73 Soi Wat Rat Rangsan, Bang Kachao, Phra Pradaeng District, Samut Prakan 10130
3.Siam Flight Fish  museum (พิพิธภัณฑ์ปลากัดไทย)
This museum owner is Mr. Theerapong Thanomphongpan, former mister of transport. He passed away in 13 Oct 2021. The museum was closed during covid until now. We hope this place will be open again .
It is still not open, but why EatWalkTalkTour put this on the list. Because, we never see any fighting fish museum and may be someday this place is reopen.
Beside a colorful small fish that you can enjoy, you will like the landscape of this place too. So it is worth to talk about.
The owner has a passion about fighting fish. He turns his private resident to the museum to show the knowledge about battle fish, including  exhibition to show the beauty of various species of battle fish.
The landscape  applied Thai architecture. Exhibiting fish species originating from the Chao Phraya River, a tricycle, a symbol of Phra Pradaeng, etc.
Location in Thai : หมู่ 3, 18/1 ซอยวัดราษฎร์รังสรรค์ เพชรหึงส์, พระประแดง, Samut Prakan 10130
Location  : https://goo.gl/maps/LSQkoCb8poefz3oy5
Operation :Saturday and Sunday 10.00-17.00
Tel : 08-2391-5944
4.Ganesh  statue at Bhamin temple วัดพราหมณ์มหาเทวาลัย บางกระเจ้า
Open air and the colorful Ganesh Statue is another light that people visit . This temple is on the way between the park and Bang Nam Phueng floating market so it is very easy to access.
The statue is 9 meters high or around tall 3 floor building. Ganesh is Hindu god which has a head as elephant and body is human. He is a famous Gods related to art and wisdom. Thai people who respect him will pay respect to him regarding to wish of smooth work and good flow of life.
Location :  https://goo.gl/maps/WFGchh2pAbjeMnJw8
Admission fee : Free
Open : Monday  09:00-18:00  Tue-Sun 09:00-20:00
5.Incense House บ้านธูปหอม
Female community gathering to produce incense by using raw materials from local herbs including citronella, neem leaves, and kaffir lime leaves. This incense has fragment smell which can be used as mosquito repellents.
The home factory area has an atmosphere which is shady and relaxing.
There are incense sticks of various colors to choose and visitors can buy them as souvenirs.
You can set up a work shop by 1 days booking in advance. Beside incense workshop you can also include professional training such as tie-dye fabric.
Recommend for a group of visitors who seeks for activities together such as family trip, school trip . Workshop time is around 2-3 hours .  At the end you will get your own shirt as a souvenir.
Location : Soi Petchhueng 52  or 22 หมู่ 3 ตำบลบางน้ำผึ้ง อำเภอพระประแดง จังหวัดสมุทรปราการ 10130
Open : by appointment only
Tel : 02-815 0729
6.Get Growing Community Farm
A top recommend place for family . Your kids will enjoy outdoor activities , get close to nature and animal and learning as well.
Fun activity for the kids
There are many rides, climbs, slides, high slides like slides down from a second floor house, zipline, climb buckets, dangling and jumping down various water bases. It tests strength, tact, guesswork, courage, and problem solving.
Challenge and decision making skill I have to say that it's brutal, fun, funny.
Every activity here, if you don't go past the steps, you're going to fall into the mud or water.
For children in the city who may not play with mud often.
Oh…seeing the children playing, don't accidentally think that it's easy.
The concept here "Children must take risks" is that each play should carry some risk for children to assess their own safety as part of their healthy growth and development. Large, small muscles, core, ribs, joints, and brain.
Children play non-stop from morning until afternoon. There is still no way to quit. Play until tired, fall asleep and wake up to play again.
Other service
There is rice for sale, a coffee shop, and ice cream, meaning you can stay all day without fear of being hungry. Play sloppy, there is a shower to change clothes.
For older children who can take care of themselves Parents are fine. As for small children, parents need to take care of each other a lot. Come here, the family can really spend time together.
In addition to all the adventure bases mentioned above Here, there are also ducks and geese roaming around and showing off their beauty.
And there is a small chicken farm for children to learn and collect eggs to take home. The children said that they would like to take them and hatch them. I want to raise chickens So the mother said Leave it to try hatching. what color will come out as a chick
Location 22 Bang Krachao, Phra Pradaeng District, Samut Prakan 10130
Opens Wed- Sun 9.00 – 17.30
Phone: 083 136 5004
7.Miniature Mask dance doll โขนจิ๋วพรรณราย
Traditional Thai dance calls Khon. This is a kind of dance which the performer will wear mask . The masks will represent each character which is from Ramayana or Rammakian in Thai. Khon Jew or miniature mask is a small doll represent each performer in Ramayana.
This place allowed you to be part of preserve small doll producing. Visitors can buy the doll or make it for your own. You can reserve the workshop which is painting part. You can pain in the doll or in the weaving bamboo fan.  Either of them are fun to do.
Open  : on reservation
Location  : check at facebook  https://www.facebook.com/GamePamjiratboonthippoowadech/
Tel   08 8199 8245
8.Café
Bangkok Tree House
This is the hotel and café in the heart of nature which is so close to Bangkok city center.
To get there by walk or bike through hidden trail along the narrow street pass village and farm.
Visitors can park the motor bike or bicycle in front of the shop.
The cafe has two floors. The building uses black steel structure with glass as wall so you can view the nature and tree surrounded. It is very beautiful to design shop looks modern, but perfectly coexists with nature. This shop decorates the ceiling with bamboo, which is very unique.
Top floor and small pavilion are an open air area. You can sit and enjoy the breeze on the deck or sit in the air-conditioned room.
Meal
 The restaurant serves Thai fusion style with a charming blend of cultures and the best dish must be given Spaghetti Pad Thai as example.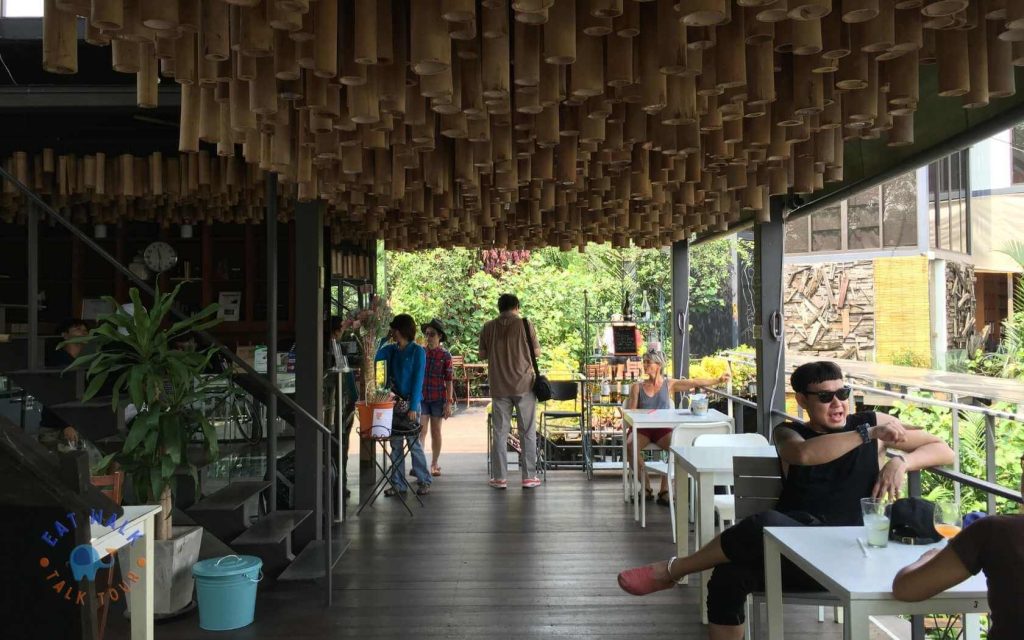 Open : daily 09:00-18:00
Location : 60 Moo1 Soi Bua Phueng Pattana Bang Namphueng, Phra Padaeng Samut Prakarn, Greater Bangkok, Phra Pradaeng District, Samut Prakan 10130
Tel : 082 995 1150
2.The Ozone Café  (โอโซนคาเฟ่)
This is a coffee shop in the garden, warm atmosphere surrounded by the green atmosphere, coconut groves, along the canal and pond. Visitors can walk in the garden and feels like living in a country house. There is a corner to relax. Take beautiful photos from many area both the cabin-style seats are decorated with white curtains. giant bamboo arch Sitting at the edge of the fish pond. It is very nice while small fountain spring water from time to time, giving a feeling of freshness as if receiving ozone as the shop's name.
Open : Fri-Sun 09.00-18.00
Location : 62, 10 หมู่ 10 Phetchahung Rd, Bang Yo, Phra Pradaeng District, Chang Wat Samut Prakan 10130
Tel  081-439-8239
3.Hidden wood Café and restaurant ฮิดเดิลวูดส์ บางกระเจ้า
Hidden woods Bang Krachao, a cafe on the Chao Phraya River, a secret cafe hidden in the middle of the mangrove forest of Khung Bang Krachao.
The shop is decorated in a modern style that blends in the nature. The owner intended to make private home but end up as retreat café and a restaurant for Bangkok people. The restaurant serves both homemade savory dishes and beverages.
Come to this restaurant, in addition to relaxing in a calm and refreshing atmosphere. They also get to taste unique food and tasty drinks.
How to getting here
Visitor can walk from Wat Bangnamphoeng Nok around 20 minutes which arrive after Bangkok tree house as well as poprak café.
You can rent at bike for 50 baht which you can also visit other sightseeing after finished the trip.
Address: 777 ซอย เพชรหึงษ์ 26 Bang Nam Phueng, Phra Pradaeng District, Samut Prakan 10130
Menu
Meal here is Thai fusion food . Top famous is Alan's Pasta and Lychee soda mixed Berry.
https://g.page/hiddenwoodsbangkok?share
Open ⋅ Tue-Sun 10:30 -18:00
Phone: 090 974 8234
Activity in Bangkrajao (Bangkok green jungle) for your trip
Snacking and food testing at Bang Nam Phueng floating market
I already recommend on Bang Nam Phueng floating market above of the list of menu I think it is special. In this section, I would like to talk about more of food I like.
The food is really matter for Thai people. So If you visit here in the morning, please do not eat your breakfast too much. So you will have the ability to snacking more food , drink and snack here.
FUG juice
This is an red – orange juice made from GAG fruit. It is sour and sweet which has herb benefit and commonly found in this area.
Noodle
Along the canal, there is a restaurant selling thing on stand which is some of the are in boat shape. You can look for the one in boat restaurant and test it. It is Kuayteaw rua or noodle sell on the boat. This kind of noodle has very dark soup. The taste is very intend. I highly recommend it.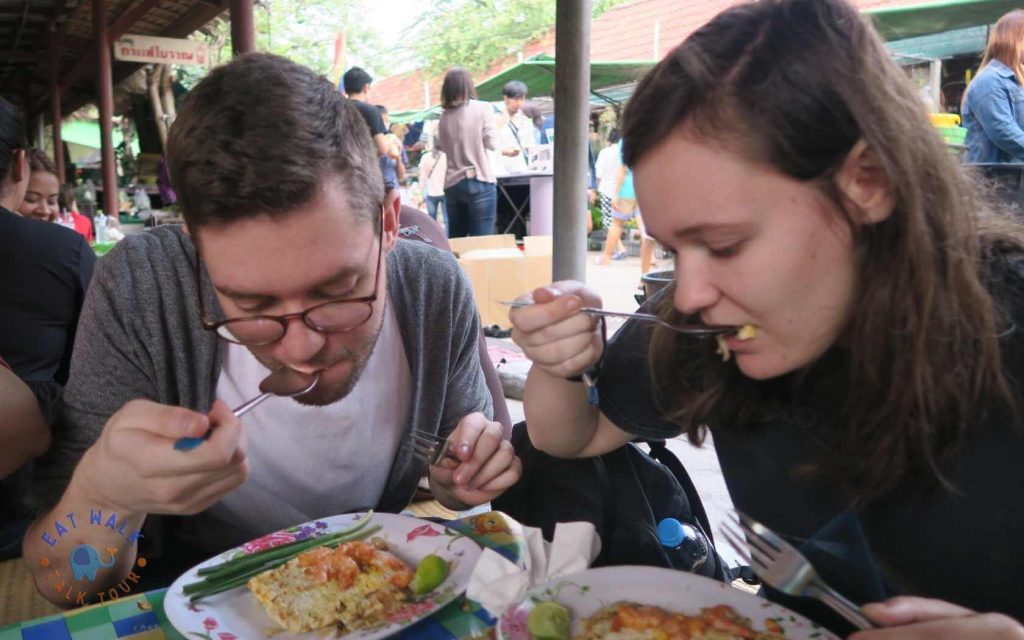 Thai dessert
Thai dessert is very sweet, but the one that coconut base it will be creamy and little sweet. The yellow color dessert has influence from Portuguese.
Tong yip (ทองหยิบ) adapt from Trouxas de ovos or Trouxas das Caldas
Foitong (ฝอยทอง)  is addepted from  fios de ovos
Tong yood (ทองหยอด) is from Ovos Moles de Aveiro,
Cooking Class
There is no specific cooking class in Bangkrachao or Bangnamphueng area. However , when we take a trip at the market, we found people are very nice and welcome us. So we got to try cooking many simply thing at the market. For those who are not familiar with cooking, I would say they will like this cooking experience too. It is no appointment cooking class.
Special menu
We also know the local people who can make a very special dish.
แกงส้มใบกระเจี๊ยบ
Kanom jak (ขนมจาก)
Coconut base dessert , wrap in palm leaves and  grill . This dessert consists of fluor from black sticky rice, salt, coconut milk, coconut meat, coconut sugar.
Coconut shell with curry กรุบกะลา
This curry soup made from coconut shell. At first I cannot believe this is a food. However, this is very hard to find dish since young coconut shell can not find in the market. Even, Thai people like myself do not know about this menu. So if you interested, contact us .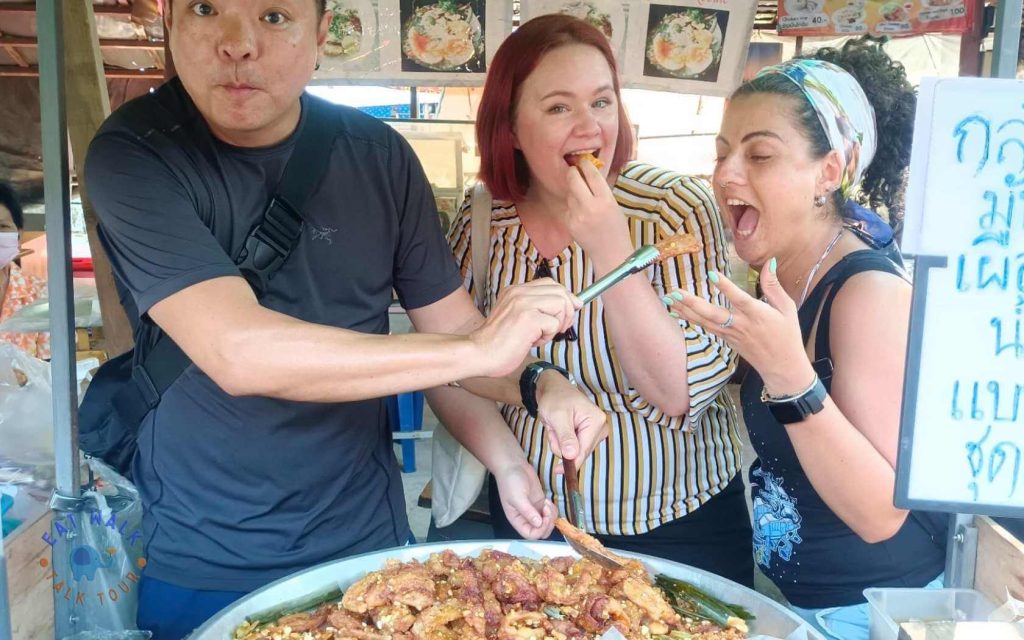 Bang Krachao cycling around the area
After you are in Bang Krachao area, you are completely removed from the chaos of Bangkok city. Cycling around is a way to explore this town.  You can ride on small road which will pass the house, temple , community and farm.
You can go to small trail that local people use to access their remote houses. You will cycle on the narrow elevated walkways (1.5 meter width) which really need to be careful. You do need a little bit of balance to bike down the elevated walkways in Bang Krachao, but it's so much fun biking down these peaceful lanes, with forest spilling over on either side.
Lush green trees line both sides of the road, and while you still have to be careful of occasional motorbikes and cars, you can immediately feel the relaxation of nature.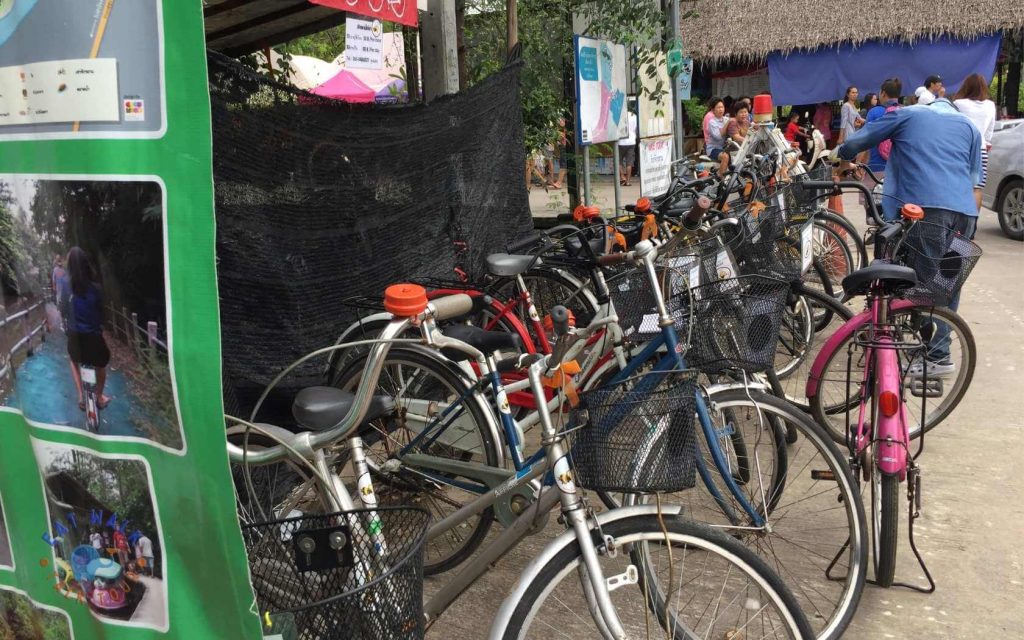 Once you access the Suan Sri Nakhon Park. Over half of the area of the park is un-touched, just natural trees and it is so quiet during the week day. You can enjoy beautiful gardens and walk in the trail.
https://www.bikemap.net/en/r/3293523/
Dancing
In Bang Nam Phueng floating market , there are community gathering for social dance or ballroom dance. This is a kind of activity that could be exercise along with improve personality looks.
CSR
Nice place like this to do activity together especially for the csr (cooperate social responsibility)
Paddling and collect trash
Bang Nam Phueng is in the watershed area and not far from the basin of the river. If you look from the map , the river of the king is about to meet the Thai gulf which is not far from Bang Nam Phueng. That means the water from the north will flow pass the area . This water flow also bring trash along and stuck in the nipa palm forest area.
To take the trash out could help to protect the small being as well as make the area look nice and pleasant.
With Kids
There are so many place in Bangkrachao that you can bring your family to do the work shop.
See
Get Growing Community Farm
Fly fire watching
Dying color of fabric
Fly fire watching  ชมหิงห้อย
You may not know that Bangkrajao has fly fire that people can observe. You can view at night when a ride small boat along the river.
Kayak
The area has a house which visitor can rent a kayak to paddle in the small canal area. It is very nice, especially in the evening.
Bang Krachao Environmental Education Centre 
This centre offers a variety of educational programs and activities related to the local flora and fauna, including bird watching and kayaking.
How to get to Bang krachao?
You can visit Bang Krachao by boat from the Silom business district. Then take the MRT to Klong Toei (exit 2), and from there get a taxi to the Klong Toei Pier. At this pier, you can catch a long-tailed boat to Bang Krachao (takes about five minutes). After arrival Bangkok krachao, you can rent a bike.
 There are also boats from Bang Na and Chong Nonsee too. Temple and across the voat
From BTS Bangna, You can take exit 2 and take a cab to Wat Bangna Nua to across to the river. Across the river by local ferry . Once you arrival Bang nam phueng nok, you can rent a bike around the area.