B

angkok Chinatown Food Tour, Ea Like A Local
Bangkok Chinatown food tour, this is a hot tour that many visitors want to participate.
Why ?
Because, it is a short trip,

not expensive and easy to participate

for a half day city tour.
Because, Bangkok

Chinatown is a vibrant, dynamic and colorful place

.
The gold shop, restaurants, souvenir, snack shop, Chinese grocery and so many things that make this lively area and bring local and tourist to visit daily.
Because, Bangkok

Chinatown is easy to access

by metro area
Bangkok Chinatown has

various sightseeing around

 such as temple, museum and hotel.
Bangkok Chinatown food tour and service provider
Bangkok Food Tour, The Taste of Thai Food and a couple tour operator provide an evening street food tour which is very interesting. Eat Walk Talk Tour offer historic day tour combine with a street food and small shop. Each tour operator has their own way to present Bangkok Chinatown Food tour. It is also quick and easy to participate in Bangkok Chinatown food.
F
amous Food of Bangkok Chinatown
If you like to experience Bangkok Chinatown food tour on your own.
You are in the right place.
In this article, we would talk about famous restaurants. 
We will introduce to some well-known restaurants in Bangkok Chinatown among the local people.
So you may, plan your own Bangkok Chinatown food tour.
Let's  start.
H

ua Seng Hong Yoawarat ( ฮั่วเซ่งฮง )
This is dim sum, noodle and Chinese food. Noodle , Chinese bun , dim sum , grill d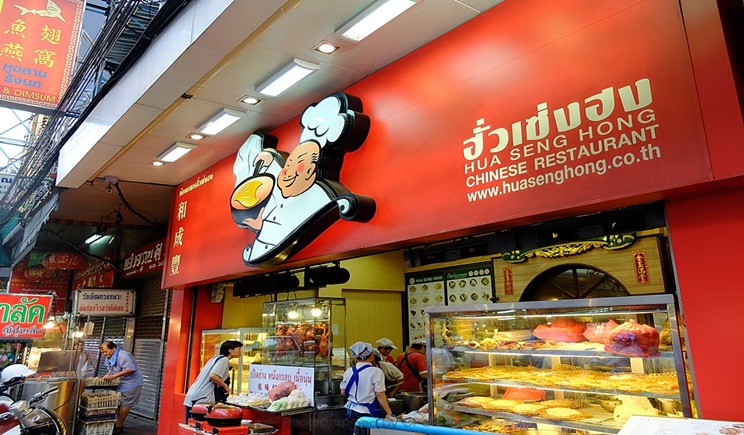 uck and bake sweet pork are serving for every day for the local who want to order to go or a quick meal.
Shark fin and bird's nest soup are premium dishes that local and Asian tourists typically ordered.
The restaurant is very busy during lunch time. They also has set menu that customers can mixed and match Thai and Chinese food.
Hua Seng Hong has more branch built chain and has branches in Shopping mall.
Well, as we try, we think the Chinatown branch is the best, especially noodle and buns.
We also found that many western Chinese Bun with sweet stuff such as beans and taro .
You may like it, don't forget to try Chinese bun when you are there.
Location  367-373 Yoawarat Road ,  02-222-0635 , 02-222-7053
Open daily  09:00 a.m. -01:00 a.m.
K

auy Jab Nai Oan at Oun Pachana  ( ก๋วยจั๊บนายอ้วน )
Thick rice noodle with boiled eggs, crispy and pork entrails .
Sound scary , for someone who has not experienced pluck before.
Don't be scared to try.
Different part of an organ come with different texture and feel when you chew.
The taste for entrails are very similar, except liver which is bitter than the other part.
And don't worry about the smell.
Special soup is hot from pepper and spice. Plus, add Chili, vinegar, sugar or fish sauce the way you like, will make the taste and smell of the noodle or Kuay jab very flagrant.
By the way, we love to have liver, pig stomach , fried tofu and boiled eggs.
This noodle is good for light dinner.  We quite positive that you will love Kuay Jab at Nai Oan.
Location  on Yaowarat road , close to Chinatown Rama Theater  02-224-3450
Open  Tuesday – Sunday 18:00 -24:00
 
S

ea Loa Yee Hor (เชี๊ยเหล่ายี่ห้อ ข้าวขาหมูแปลงนาม)
Rice top crispy pork and Chinese sauces top with sweet strew has been in the business for over 60 years. The family run business maintains high quality taste made people come over and over again.
If you love sweet and pork fan , you should not miss this place.
Location Preang nam Road , small alley connect to Yoawarat Road
Tel 086-614-6946
Open Daily  07:00-15:00
D

esert : Mee wan Jea Muay (หมี่หวานเจ้หมวย)
To cold down from hotel weather, you must try Mee Wan. Mea is round rice noodle look similar with egg noodle. Soak this  mee on the water and then boiled in water with sugar. Then add different kind of grains add syrup and ice . Jea Muay is a name of owner, she serves the desert for over 20 years.
This is something that we really love to recommend.
Why ?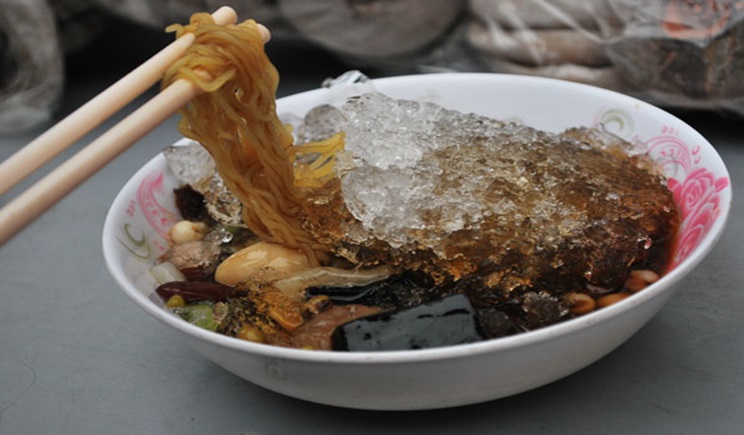 It is rare to find this dessert. It is quite complicated process and preparation.
So , no one want to make it.
Then, try Mee Wan since it is still existing in Bangkok Chinatown.
Location : Yawarat Road Soi 11 , not far form 7-11 shop.
Open daily 10:00-20:00
D

rink : Double Dogs Tea Room
After walking around and taste various stuff.
It is time to try to break and get some hot a/c.
Where?
Go sit and sip a high quality tea at double dogs tea room.
Hot Chinese tea with a snack package serve here.
The owner is a big fan of Chinese and Japanese tea. Tea lover should not miss to stop here.
He is a professor in university, if he is there, you may have a good conversation and learning about tea at this place.
Open Tuesday – Thursday 13:00-21:00 Sunday 11:00-23:00
 
C

offee :  Easea (ร้านกาแฟเก่าแก่เอี๊ยแซ และขนมปังปิ้ง)
80 years old coffee shop called Easea. Old Chinese descent folks are hangout here. They serve fresh roasted coffee daily made.
The ambience of this place is so cool, make it feel like living in the old day.
Thai people called the shop like this as sapa kafea.
SAPA is means congress.
Kafea is coffee. We guest France language means the same things.
It is a place that old folk get together. Reading the newspaper and discuss about politics, event and news.
It is like a meet up place in the morning.
Location : Yawarat Road , between Soi Yoa wapanit and Soi Padung doaw
Location : Yawarat Road , between Soi Yoa wapanit and Soi Padung doaw
Open Daily  05:00-20:00
L
east but not last about Bangkok Chinatown Food tour
3 recommends restaurants, 1 snack shops, 1 tea house and 1 coffee shop should be enough to hang out and create your Bangkok Chinatown Food Tour.
If it is not enough for a recommendation about Bangkok Chinatown Food tour, stay tune with us. We keep more updated information that you can not find from anywhere. hahaha
By the way, we are also open if you like to know more about some place or want to share your story. We love to hear from you.
LOVE our article, don't forget to like and share in your social media platform.
J