Bangkok Chinatown restaurant and Food Tour
One of the main reasons why local people in Bangkok visit Chinatown is for its delectable food offerings. It is indeed a paradise for food lovers. Bangkok Chinatown is renowned for its culinary delights, attracting food enthusiasts from all walks of life. The local people, as well as visitors, flock to Chinatown to satisfy their cravings and indulge in the wide variety of dishes available.
What kind of food serve in Chinatown
The food scene in Chinatown is incredibly diverse, offering a mix of Thai and Chinese flavors. From street food stalls to local eateries and renowned restaurants, there is something to suit every palate. The local people often venture to Chinatown to enjoy popular dishes like roasted duck, crispy pork, fresh seafood, dim sum, noodles, and a plethora of mouth-watering desserts.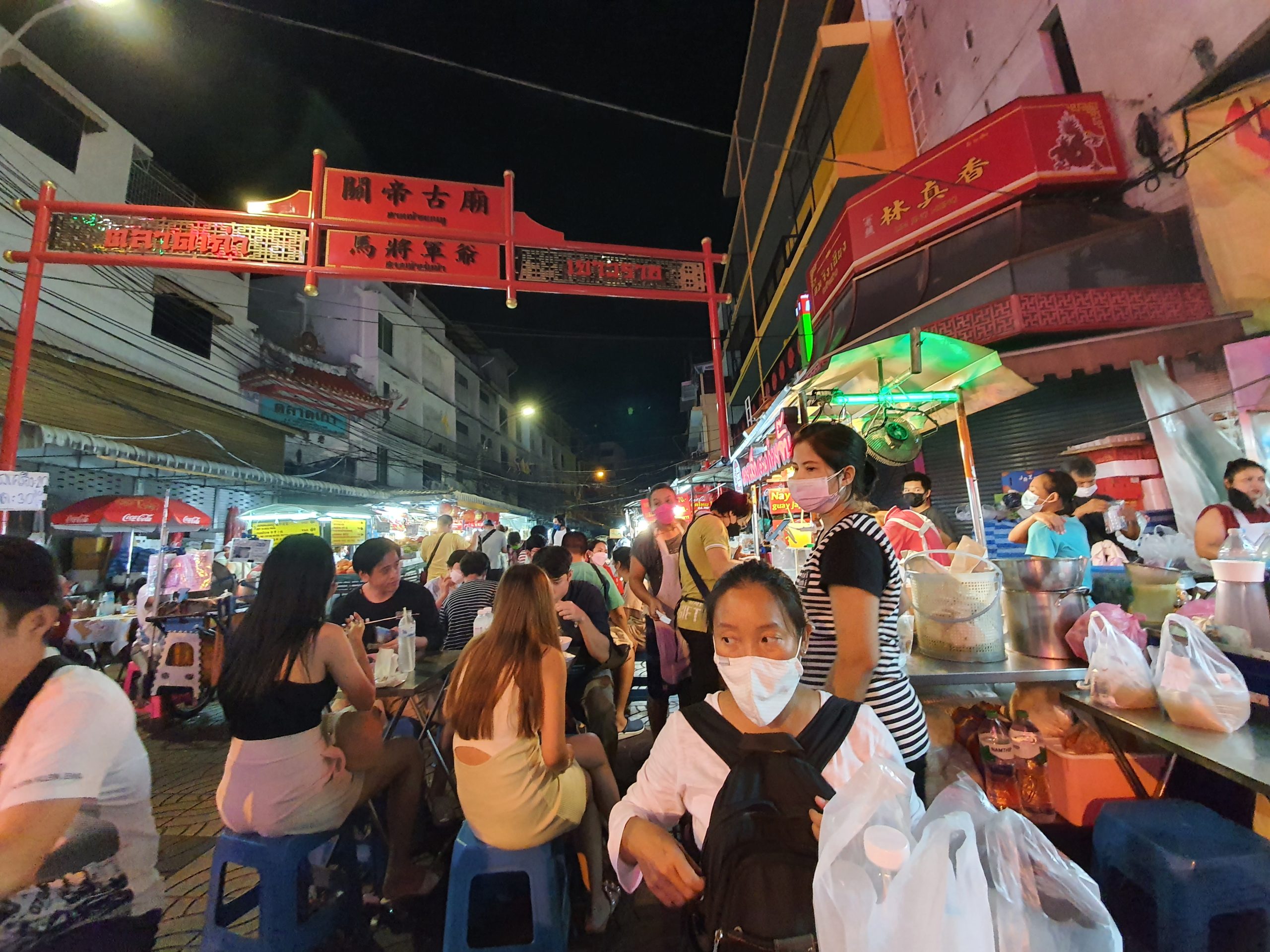 Chinatown in Bangkok is especially famous for its street food. The narrow lanes and bustling alleys are lined with countless food stalls offering an array of flavors and aromas. The locals take pleasure in exploring these stalls, trying different dishes, and discovering new culinary treasures.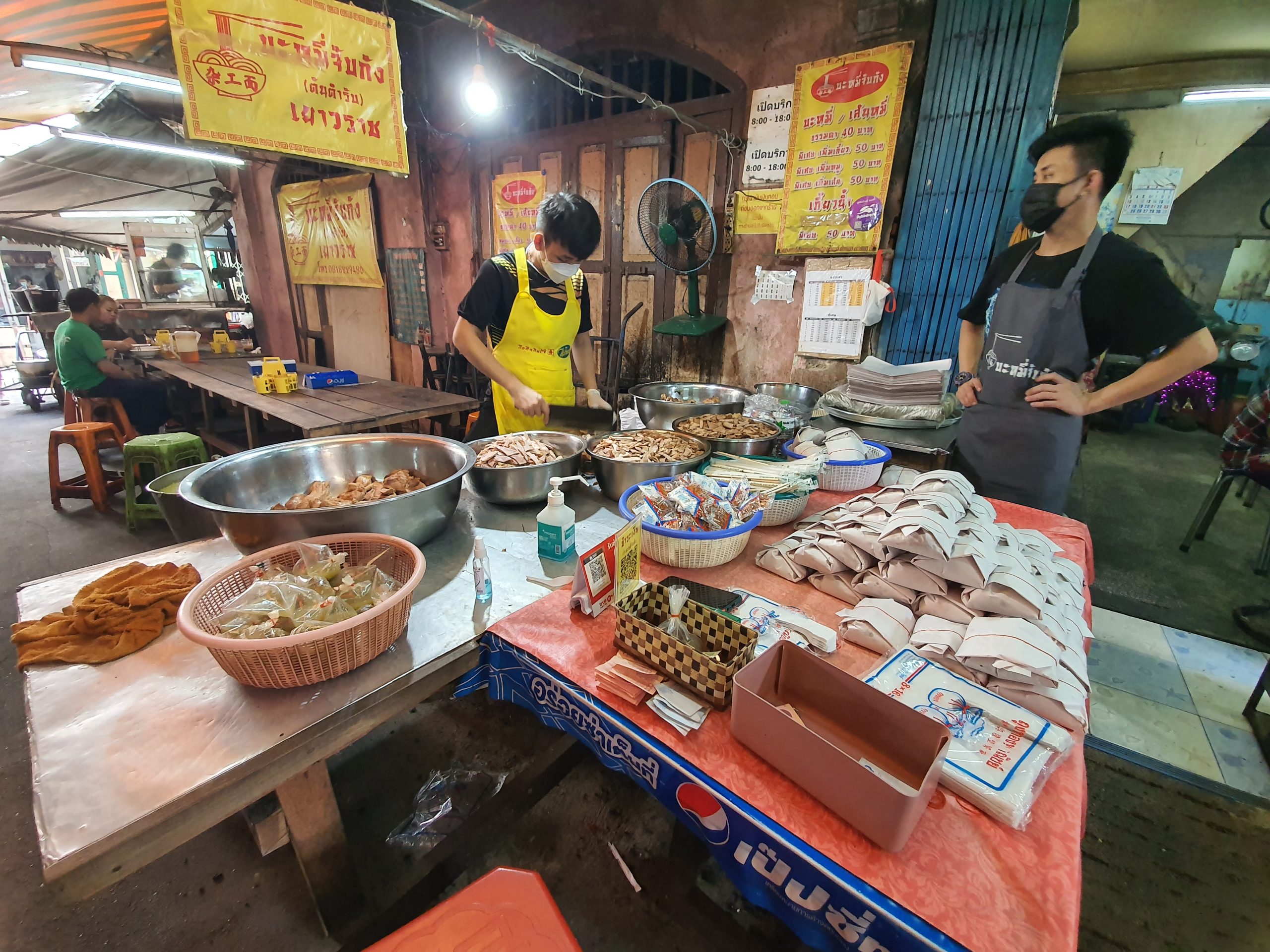 In addition to the street food, Chinatown also boasts traditional Chinese restaurants that have been serving authentic cuisine for generations. These establishments are popular among locals who appreciate the classic flavors and nostalgic ambiance they offer.
For the local people of Bangkok, going to Chinatown is not only about satisfying their taste buds but also about enjoying the vibrant atmosphere and the sense of community that the area exudes. It's a gathering place where friends and families come together to enjoy a delicious meal and create cherished memories.
So, if you're in Bangkok and looking for some truly yummy food, Chinatown should definitely be on your list, as it offers a delectable culinary adventure that both locals and visitors thoroughly enjoy.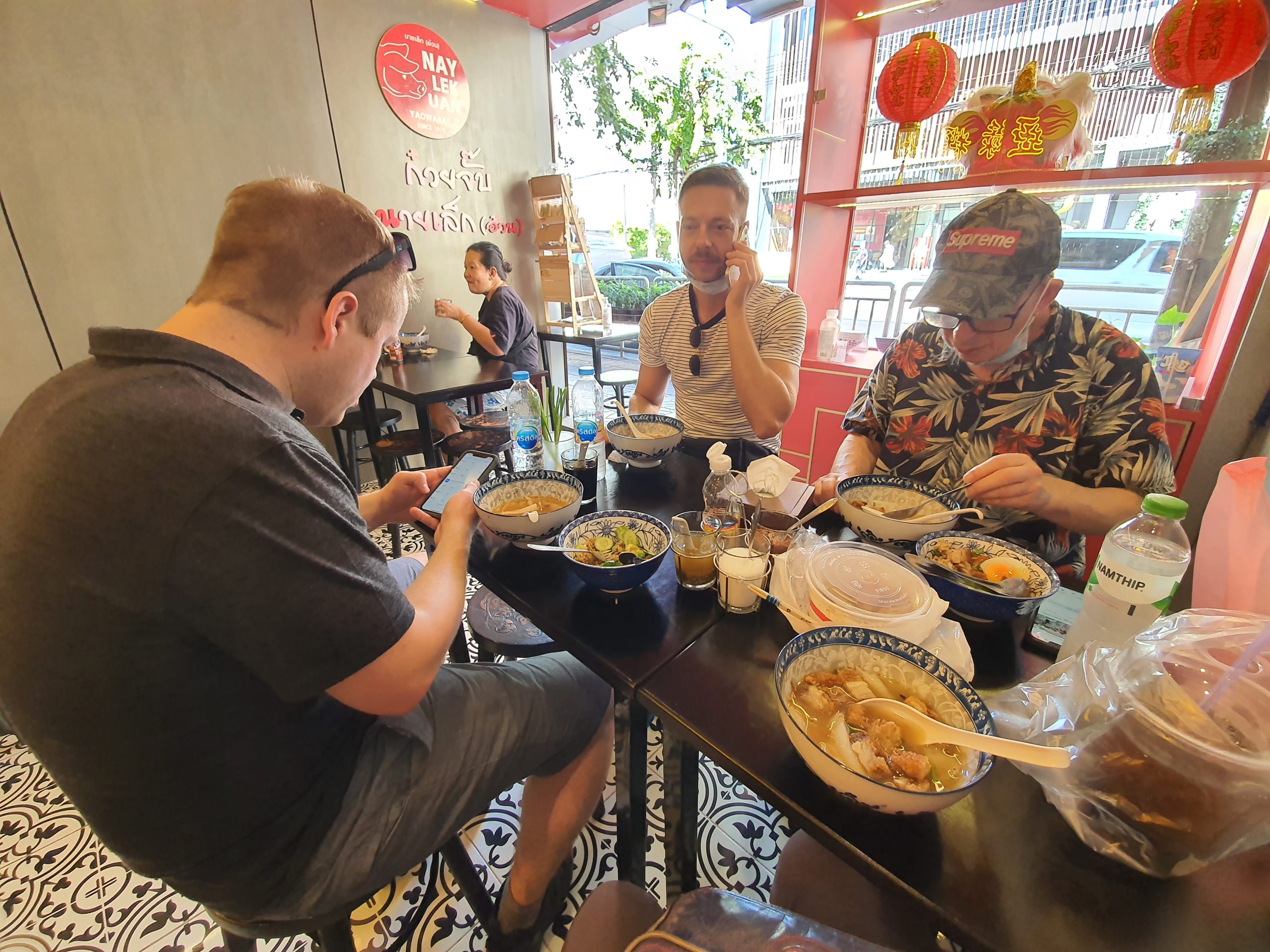 Famous Dish and Restaurant Worth to Try
 If you would like to experience Bangkok Chinatown food tour on your own.
You are in the right place. Below, we would recommend famous restaurants and dishes. We will introduce some well-known restaurants in Bangkok Chinatown among the local people. Some restaurants might be busy since they are famous, reservation in advance is recommended.  Plan your own Bangkok Chinatown food tour .
 Let's start the fun delicious mouth adventure.
Hua Seng Hong Yaowarat ( ฮั่วเซ่งฮง )
This is the famous Dim Sam and Chinese food restaurant in the area. The most famous menu here is Dim Sam and Snow Fish stream.
If you're a fan of Chinese cuisine and dim sum, Hua Seng Hong is worth considering for a dining experience in Bangkok Chinatown. Chinese bun, dim sum, grill duck and bake sweet pork are serving for every day for the local who want to order to go or a quick meal.
Shark fin and bird's nest soup are premium dishes that local and Asian tourists typically ordered. The restaurant is very busy during lunchtime. They also have set menu that customers can mixed and match Thai and Chinese food.
Hua Seng Hong has more branches-built chain and has branches in shopping mall. Well, as we have tried every single branch, we think the Chinatown branch is the best, especially noodle and buns. We also found that many western Chinese Bun with sweet stuff such as beans and taro. You may like it, don't forget to try Chinese bun when you are there.
Location :367-373 Yoawarat Road,  02-222-0635 , 02-222-7053
Open daily 09:00 a.m. -01:00 a.m.
Kuay Jab Nai Ouan ( ก๋วยจั๊บนายอ้วน )
Thick rice noodle with boiled eggs, crispy and pork entrails.
Sounds scary, for someone who has not experienced pluck before.
Don't be scared to try. Different parts of an organ come with different textures and feel when you chew. The taste for entrails is very similar, except liver which is bitter than the other part. And don't worry about the smell. The special soup is hot from pepper and spice. Plus, add chili, vinegar, sugar or fish sauce the way you like, will make the taste and smell of the noodle or Kuay Jab very fragrant.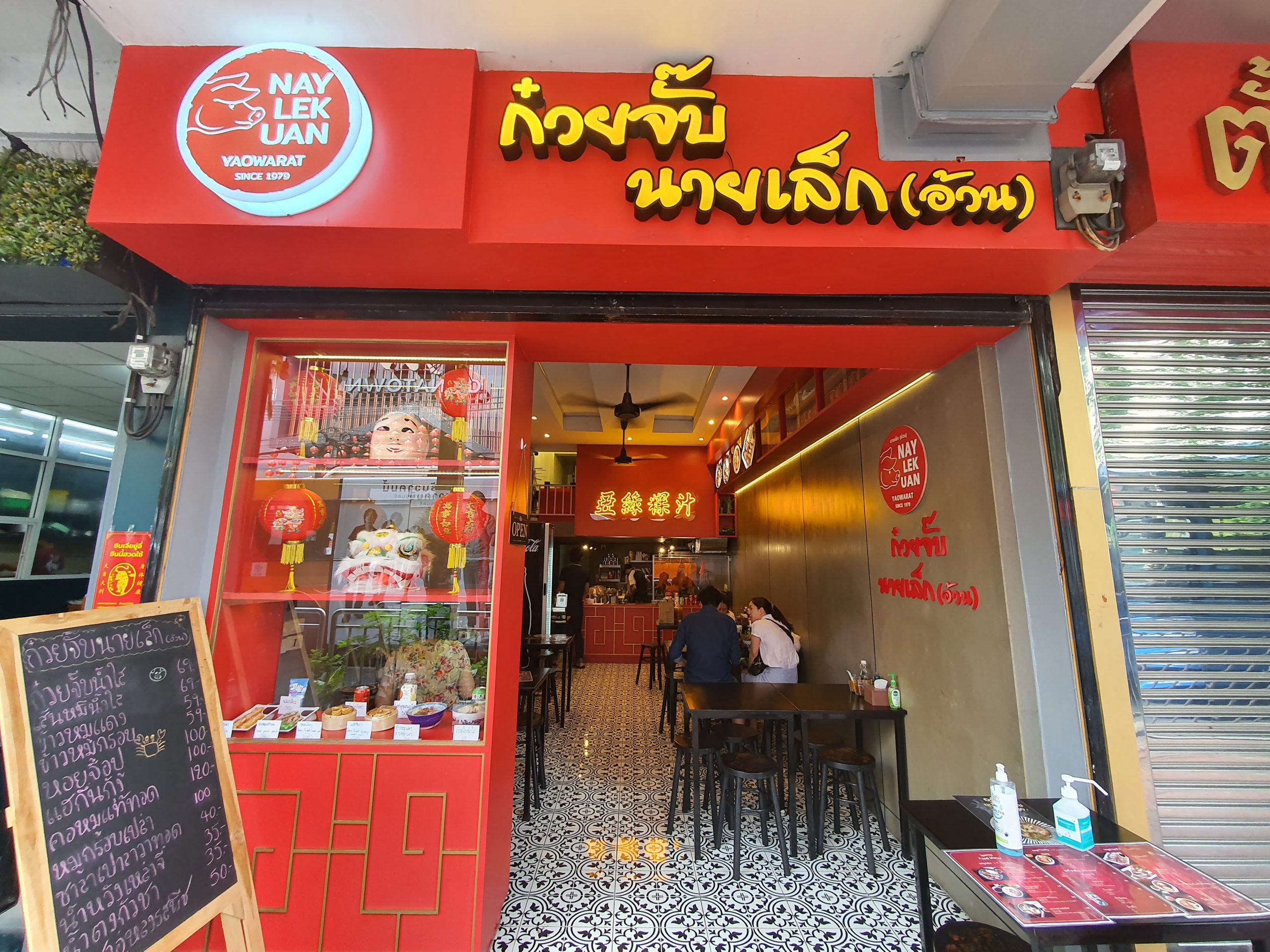 By the way, we love to have liver, pig stomach, fried tofu and boiled eggs.
These noodles are good for a light dinner.  We are quite positive that you will love Kuay Jab Nai Ouan.
Location: Yaowarat road, close to Chinatown Rama Theater
Tel:  02-224-3450
Open:  Tuesday – Sunday 18:00 -24:00
Sea Loa Yee Hor (เชี๊ยเหล่ายี่ห้อ ข้าวขาหมูแปลงนาม)
Rice top crispy pork and Chinese sauces top with sweet strew has been in the business for over 60 years. The family runs a business and maintains high-quality taste. As a result, they made people come repeatedly.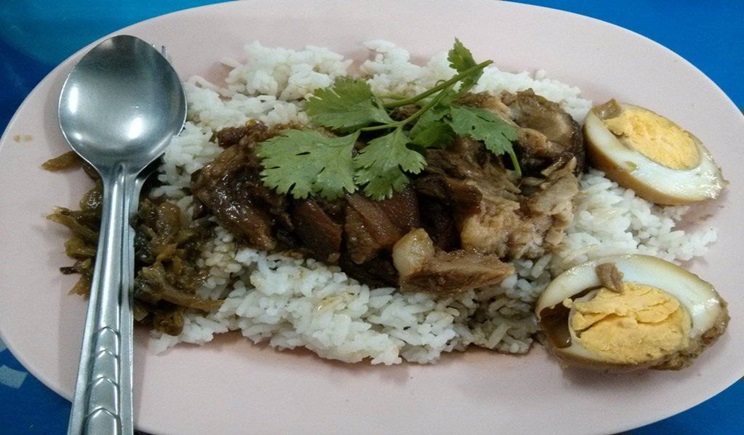 If you love sweet and pork fan, you should not miss this place.
Location: Preang Nam Road, small alley connects to Yaowarat Road
Tel:              086-614-6946
Open:          Daily 07:00-15:00
Desert : Mee Wan Jea Muay (หมี่หวานเจ้หมวย)
To cool down from the hot weather, you must try Mee Wan. Mee or Rice Vermicelli is round rice noodle that looks similar to egg noodle. Soak this Mee in the water and then boil it in water with sugar. Then add different kinds of grains, syrup and ice. Jea Muay is the name of the owner; she has served the desert for over 20 years. This is a sweet dish that we really love to recommend.
Why? It is rare to find this dessert. It is quite a complicated process and preparation. Therefore, no one wants to make it.
Let's try Mee Wan since it still exists in Bangkok Chinatown.
Location: Yawarat Road Soi 11, not far from 7-11 shop.
Open daily 10:00-20:00
Drink : Double Dogs Tea Room
After walking around and tasting various stuff. It is time to try to break and get some hot a/c. Where? Go sit and sip a high-quality tea at Double Dogs tearoom. Hot Chinese tea with a snack package serve there. An owner of this tearoom is a big fan of Chinese and Japanese tea. Tea lovers should not miss stopping here.
He is a professor in university, if he is there, you may have a good conversation and learn about tea at this place.
Location: Yaowarat Road (opposite Yaowarat Soi 4)
Open Time: Tuesday – Thursday 13:00-21:00
                    Sunday                       11:00-23:00
Coffee :  Easea (ร้านกาแฟเก่าแก่เอี๊ยแซ และขนมปังปิ้ง)
80 years old coffee shop called Easea. Old Chinese descent folks are hangout here. They serve fresh roasted coffee daily made. The ambience of this place is so cool, it feels like living in the old days.    Thai people called the shop like this as SAPA Kafae.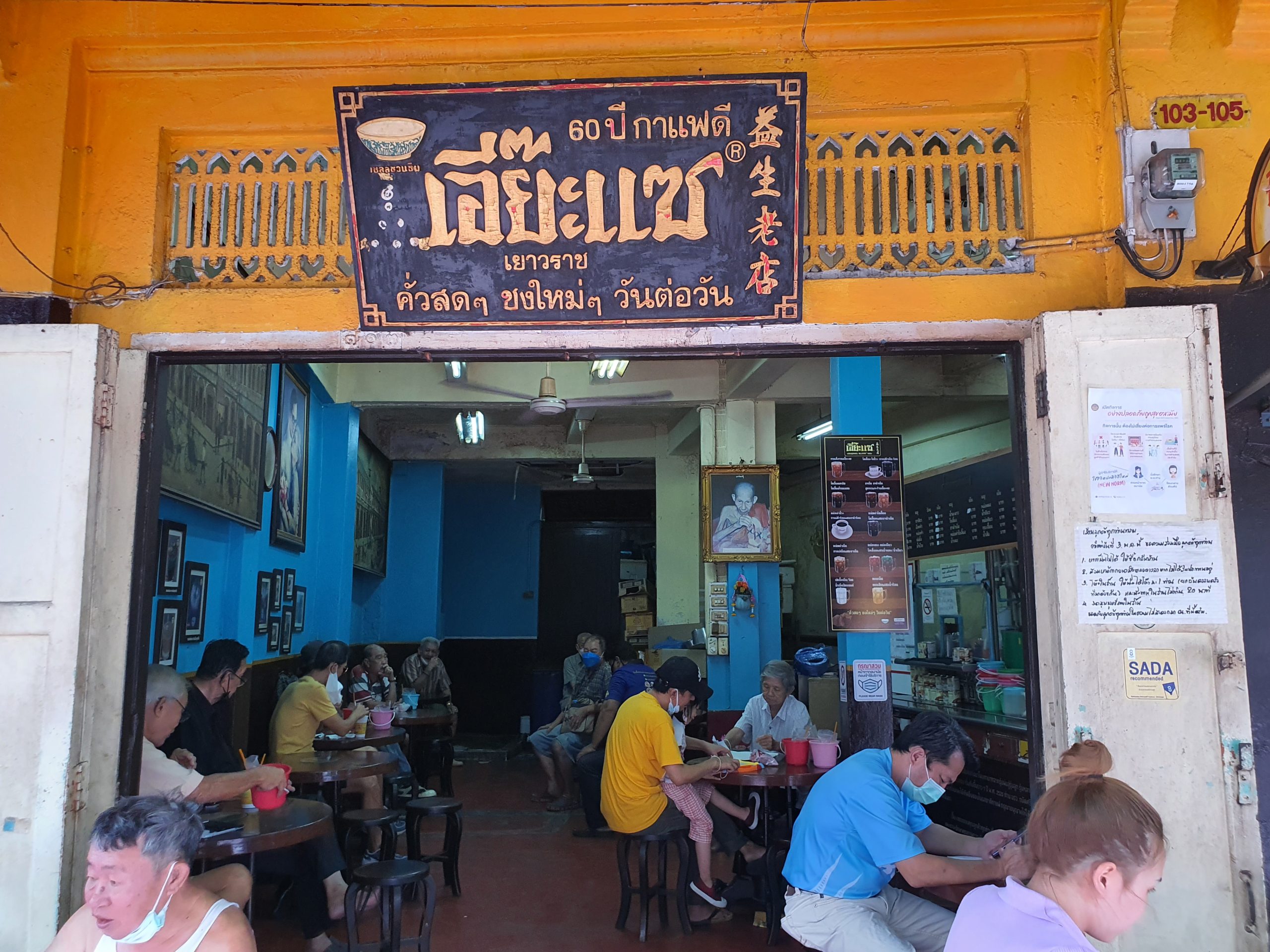 SAPA means congress. Kafae in Thai means coffee. We guest France language means the same things. It is a place where old folks get together. Reading the newspaper and discussing politics, events and news.
It is like a meet up place in the morning.
Location: Yawarat Road, between Soi Yao Wapanit and Soi Padung Doaw
Open Daily  05:00-20:00
Even Suki Yaki is a Japanese food. It is a hot pot but we eat with Thai spicy sauce. There are vegetable and all kinds of meat and meat ball which is made of shrimp, chicken, fish, calamari, or pork.  It is a very famous place to have Dim Sam as well.
Location: Padungdoa Road.
Open  11.00-21.00
Tel 02-223-9807
This is an exclusive order for Thai-Chinese Cooking restaurant that you should try. Chef Jok was working as a salesperson to sell seafood product to the restaurant. He gets used to the supply chain of seafood such as crab, fish, and more.
He knew a lot of people during early working and loves to cook for friends and family. 2008, he opened his house as a restaurant with only one table.
All customers must make reservations and order food with only 30 menus. A Customer cannot select the menu. It really depends on the ingredients that the chef could buy that day.  This makes all customers exiting with what they are going to eat.
Currently, this shop has 5 tables. It is still very famous, and many people come. Prince Sirindhorn is also his customer. He cooked for her birthday that celebrate in Thai Royal Cadet school.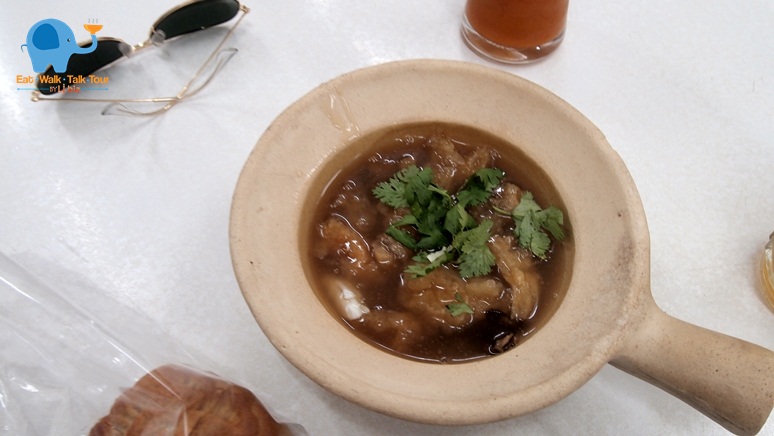 A famous menu item here is Crab curry and Shark Fin soup which is expensive by the price of the ingredient. Other seafood menu prices are relatively high but affordable. It is better to bring other people with you for at least 10 people so you can share the food cost.
The restaurant is in the house which is in the market. Therefore, the scenery is not so nice.
Location: Isranuphan Alley, next to the MRT Wat Mangkon exit3
Contact Tel: 02-221-4075 , 081-919-9468
Open Time : Daily 07:30-18:30
Small restaurant owned by three sisters. It is not a very famous restaurant for media or press. They serve a one dish menu with stream rice and noodles. Yaowarat Pochana is particularly known for its Crab Fried Rice (Khao Pad Pu) and Crispy Pork Belly (Moo Krob). These dishes are highly recommended and favored by many patrons for their delicious taste and quality. Their best side dish is Hoi Jor and spring roll. Koay Teaw Kua Kai (ก๊วยเตี๊ยวคั่วไก่)and Krapao basil are the best that I ever had. Our Chinatown walking tour included visiting this place.
Location: In front of Yaowarat Road, Soi 4.
Open Time: Monday-Friday 09:00 -17:00
Sunday    09:30-16:00
Tel: 02-2212800, 096-0109866
Krapoapla Namdeang Soot Hu Chalam (กระเพาะปลาน้ำแดงสูตรหูฉลาม)
Krapoa Pla is a fish maw. Fish maw is prized for its gelatinous and chewy texture and is often used in soups, stews, and braised dishes to add depth and richness.
This dish is cooked in shark fin Chinese soup style. Fish maw looks like sponge and tasteless. They will cook and mix with crab meat, chicken meat and chicken blood. It is a very pleasant soup when you want to eat something light.
Location: On a street food in front of Mankong building on Yoawarat Road.  Open Time: Daily 09:00-16:00
Tel: 085-319-7930
Hoi Tod Texas (Fried Mussel Pancake)
This restaurant has been open for over 70 years. This is the third generation who has been cooking here.  They serve omelet cooked with rice flour and oyster or mussel.
The sea product is very fresh and a direct order from Angsira, Chonburi province near Pattaya.  If you're a fan of Hoi Tod or looking to try this popular Thai dish.
 Hoi Tod Texas is a great place to satisfy your cravings and experience the authentic flavors of Hoi Tod. A special home cooking sauce made Hoi Tod Texas very yummy.
Location: Trok Ton Sai , Padungdao Road.
Open Time: Daily 09:00-18:00
Tel:  02 221 3050
Fikeaw Yaowarat (ไฟเขียวเยาวราช)
This is a street food restaurant. It is known for its delicious Thai Chinese dishes and has garnered a loyal following among locals and tourists. Their famous menu is morning glory and chef cook with fire up over oven.
Others famous menu are Prakapong Yammanao (Salad Seabass Lime) , Poo Pad Prik Thai Dam (Stir Fried Crab with Black Pepper), Koong Ob Woonsen ( Steamed Glass Noodles with Prawns), Plataptim Samrod (Three Flavoured Red Tilapia Deep-Fried Fish, and Toodman koong (Shrimp Cake).
Location: in front of Soi. Peng Nuan on Yaowarat Road.
Tel: 081-560-5522, 082-359-1023
Open Time: Daily only evening19:20-24:00
Curry and rice (ร้านเจ็กปุ้ย)
This restaurant serves rice and Thai curry. The restaurant use to sell on the street next to wat Mangkorn. Now , they move to small alley not far from original location. This restaurant open for 70 years and now under operation by the third generation.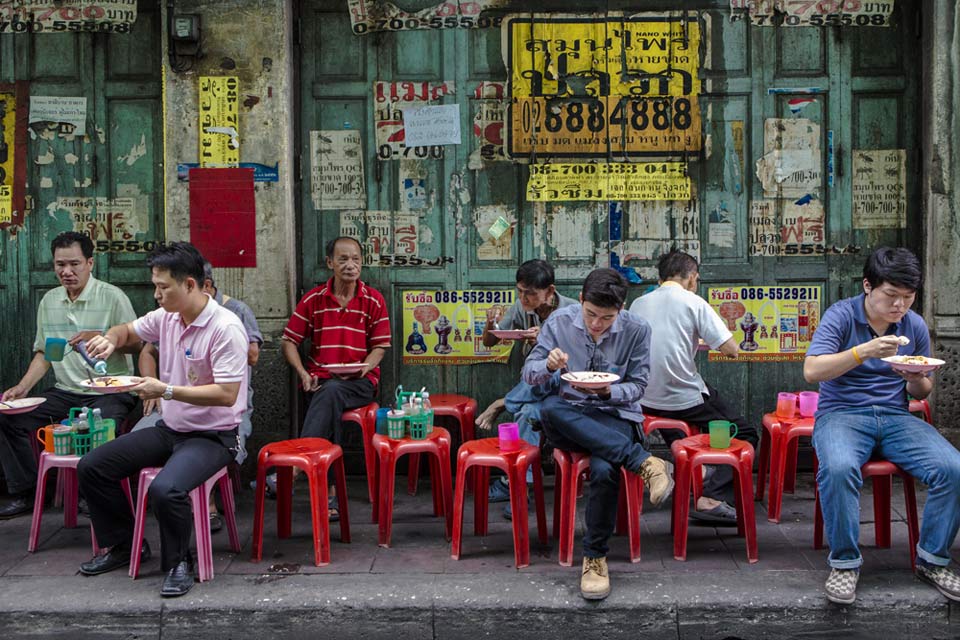 There are no proper seat to provide for customer. Customer will only have a chair to sit and it is very busy. If you want to eat you need to get in the queue and looks for available chair.
 There are around 10 menus to select consist of curry cook with pork or beef.  Chick green curry, fish ball in green curry, roasted pork rip, fried crab, bamboo shoot stir fried, sweet pork, egg and pork in brown sweet soup, and paneang curry with pork .
 Open hours 15.00-21.00
Kankee Namtoathong (คั้นกี่ น้ำเต้าทอง)
It is located on Chalernkrung road. This is a shop open over 100 years old. They serve healthy drink such as Nam Kom(น้ำขม), Nam wan(น้ำหวาน), Jab leang(น้ำจับเลี้ยง), Makampoon(น้ำมะขามป้อม), Name Bai Bou Book (น้ำใบบัวบก)
4 recommends to eat; 1 restaurant, 1 snack shops, 1 tea house and 1 coffee shop should be enough to hang out and create your Bangkok Chinatown Food Tour. However, if you have more space in stomach , let's eat more food.
These are just a few examples of the famous dishes you can savor in Chinatown, Bangkok. If it is not enough for a recommendation about Bangkok Chinatown Food tour, stay tuned with us. We keep more updated information that you cannot find anywhere.
Bangkok Chinatown Street food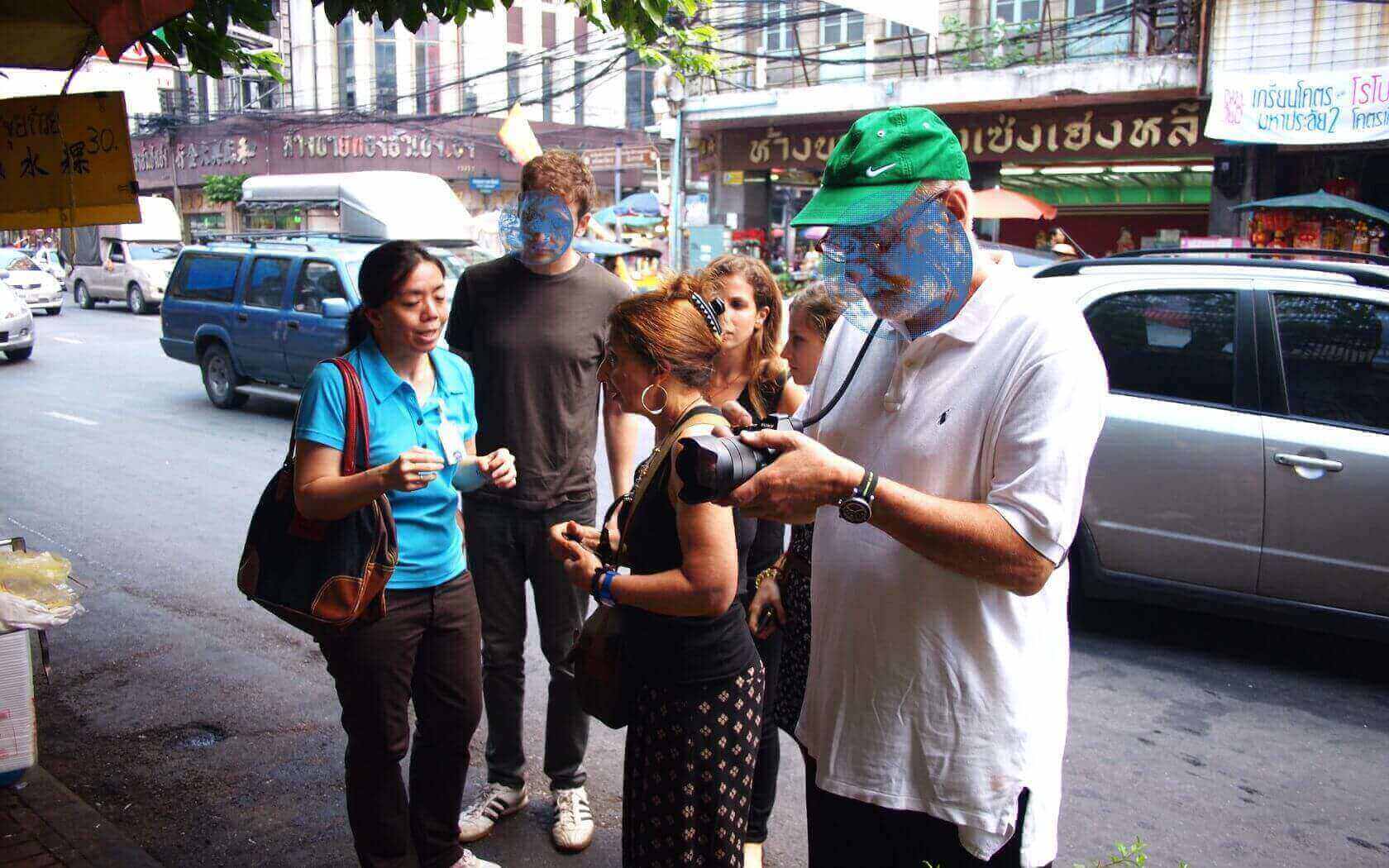 The street food scene in Bangkok Chinatown is most vibrant in the evenings and at night. The area comes alive with food stalls and vendors setting up their offerings along the streets, particularly along Yaowarat Road, which is the main thoroughfare of Chinatown.
You can start to see street food vendors setting up their stalls and preparing for the evening around late afternoon, usually after 5:00 PM. The peak hours for street food in Chinatown are typically from around 6:00 PM until late into the night, often past midnight.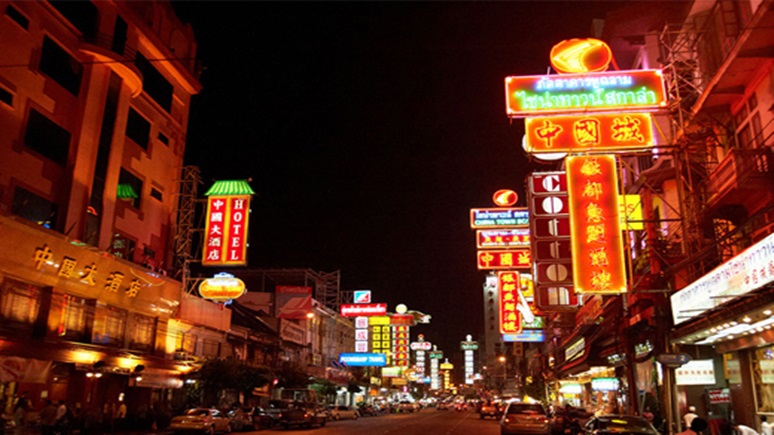 During this time, the streets of Chinatown become bustling with locals and tourists alike, all searching for their favorite dishes and indulging in the diverse flavors of Thai and Chinese cuisine. You can expect so many people waiting for a long line for their favorite dishes. Don't get frustrated waiting because it's worth it. This is the way of life there. The street venders don't have any reservation, first come first serve only.  The atmosphere is energetic and filled with enticing aromas, making it a prime time to experience the street food scene.
It's important to note that Chinatown is a lively area, and the street food vendors may have varying schedules or operate on specific days. It's always a good idea to check with locals or do some research to ensure you visit when the street food stalls are likely to be open and bustling.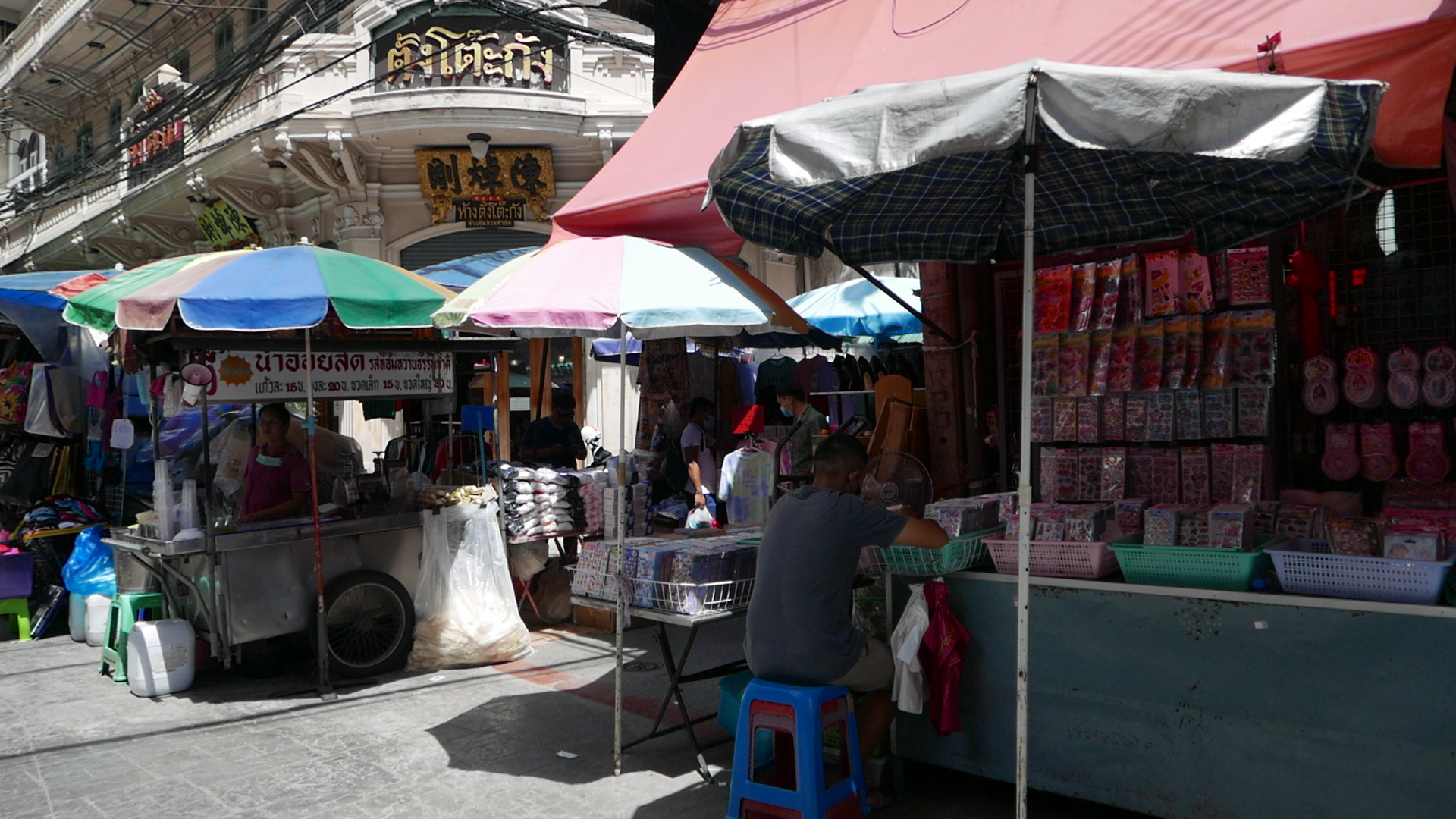 Special Food for Festivals in Chinatown Bangkok
During festivals in Chinatown, Bangkok, you can expect a wide variety of special foods and treats that are prepared specifically for the occasion. Here are some popular festival foods you can find in Chinatown during festive times:
Also known as "sticky rice cake" or "Chinese New Year cake," Nian Gao is a traditional delicacy made from glutinous rice flour and sweet ingredients. It is often steamed or pan-fried and symbolizes good luck and prosperity.
These are Chinese dumplings typically enjoyed during the Chinese New Year festivities. Jiaozi are filled with a mixture of meat and vegetables and are usually boiled, steamed, or fried. They symbolize wealth and are often shared with family and friends.
These sweet glutinous rice balls are a traditional food associated with the Lantern Festival, which marks the end of the Chinese New Year celebrations. Yuanxiao is typically filled with sweet fillings such as sesame, peanut, or red bean paste.
Similar to Yuanxiao, Tangyuan are glutinous rice balls often enjoyed during the Lantern Festival. They are typically served in a warm sweet soup and represent family unity and togetherness.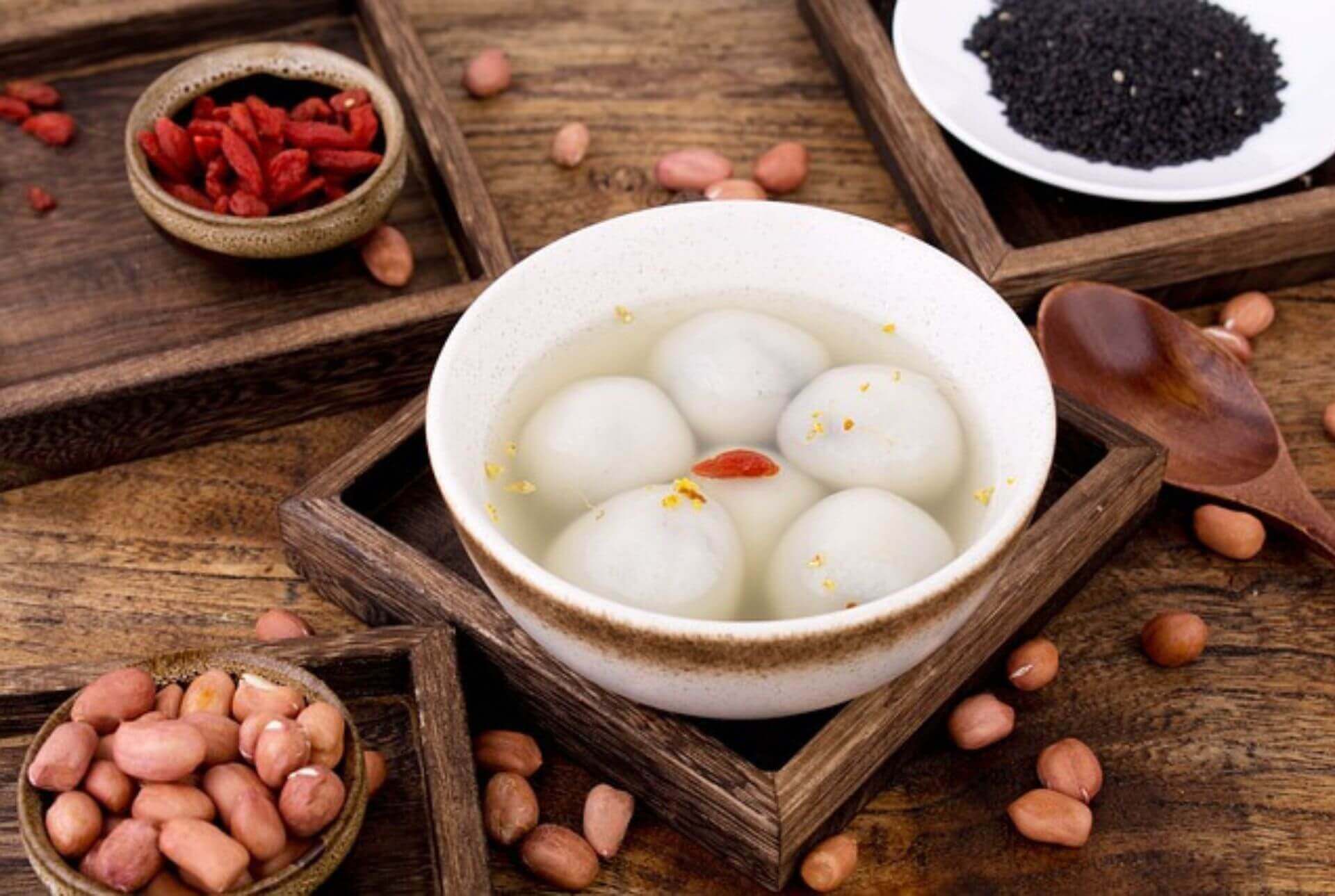 Mooncakes are a quintessential treat during the Mid-Autumn Festival, also known as the Mooncake Festival. These round pastries have various fillings, including lotus seed paste, red bean paste, or salted egg yolks, and are often enjoyed with tea.
A festive and celebratory dish, roast suckling pig is often enjoyed during grand events and festivals. It features a whole pig that is roasted to perfection, resulting in crispy skin and succulent meat.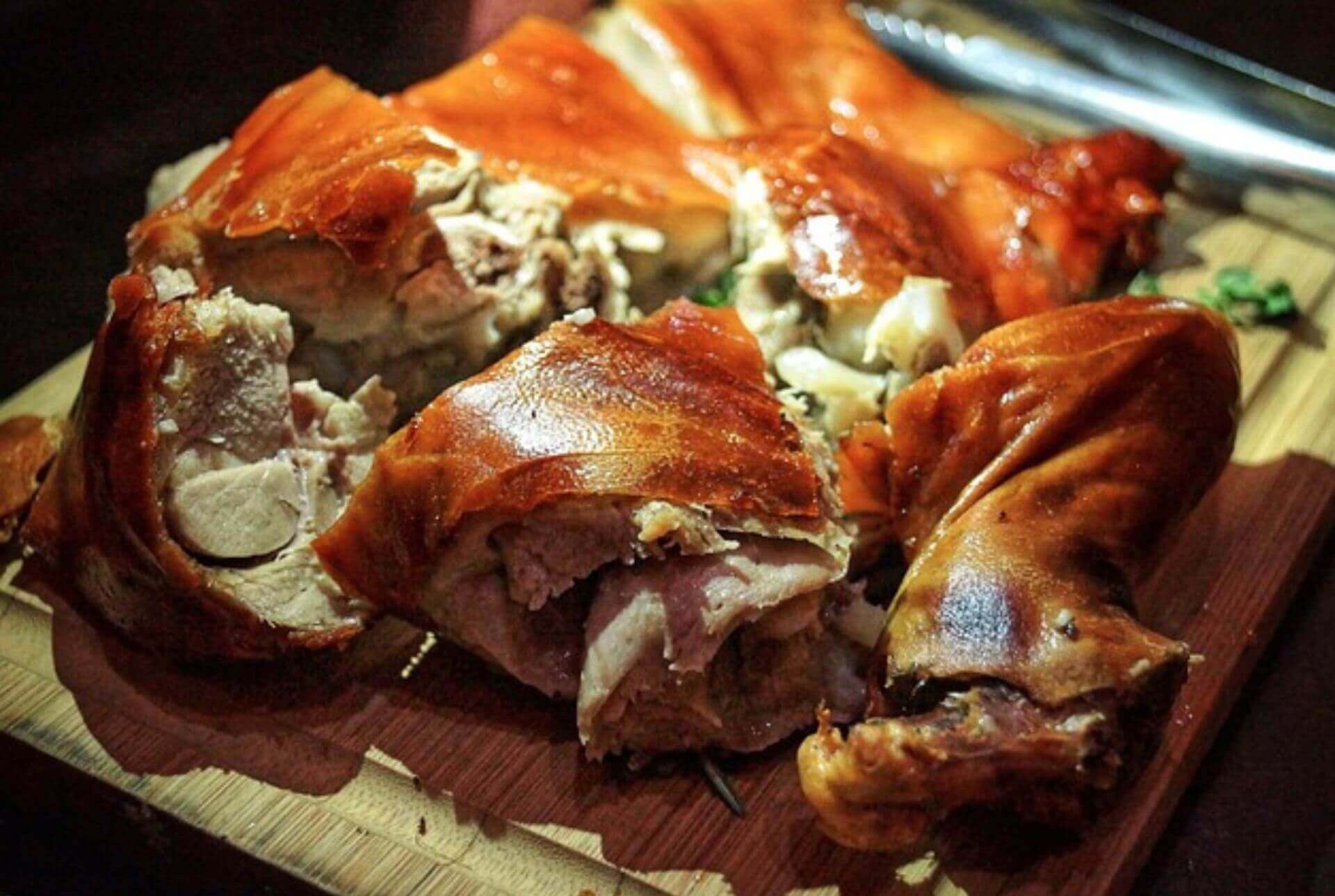 Traditional Chinese Sweets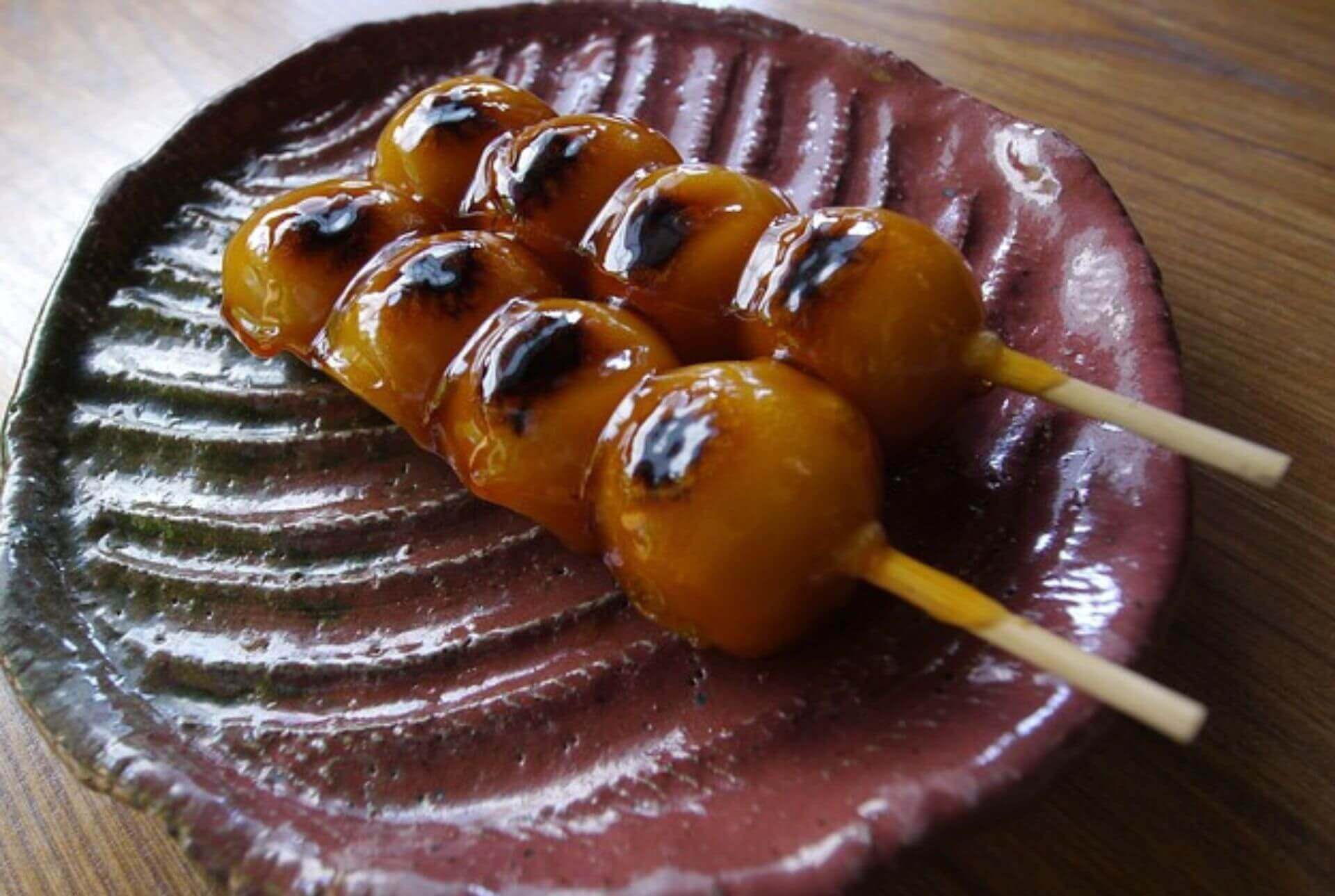 Various traditional Chinese sweets, such as almond cookies, sesame balls, and peanut candies, are often available during festival times in Chinatown. These treats are enjoyed as symbols of good luck and prosperity.
This traditional Chinese sweet is made by pulling sugar strands into thin, silky threads, resembling a dragon's beard. It is a delicacy often found during special occasions and festivals.
also known as the Vegetarian Festival or Nine Emperor Gods Festival : it's worth exploring the streets and alleys of Chinatown, as you'll likely find various vendors and stalls offering vegetarian and vegan options. Additionally, you can inquire at local temples or ask locals for recommendations on specific places to visit for the best Jay food experience.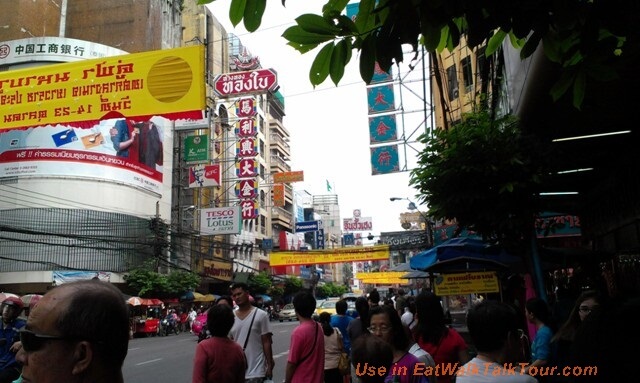 During festival times in Chinatown, you'll find vendors and shops dedicated to selling these special festival foods. It's a great opportunity to immerse yourself in the festive spirit, try unique flavors, and embrace the cultural traditions associated with the celebrations.
Please note that specific festival foods may vary depending on the festival and the year. It's always a good idea to check the local festival schedule and ask locals or vendors about the special foods available during the specific festival you plan to attend in Chinatown, Bangkok
Gold Shops are Many Like Food Stalls
In addition to the bustling food scene, Chinatown in Bangkok is also renowned for its abundance of gold shops. As you explore the streets of Yaowarat Road and its surrounding alleys, you'll notice a high concentration of gold shops and jewelry stores. Gold holds significant cultural and symbolic value in Chinese culture. It is often associated with wealth, luck, and prosperity. As Chinatown is predominantly influenced by the Chinese community, it is natural to find a strong presence of gold shops catering to the cultural demand for gold jewelry and products.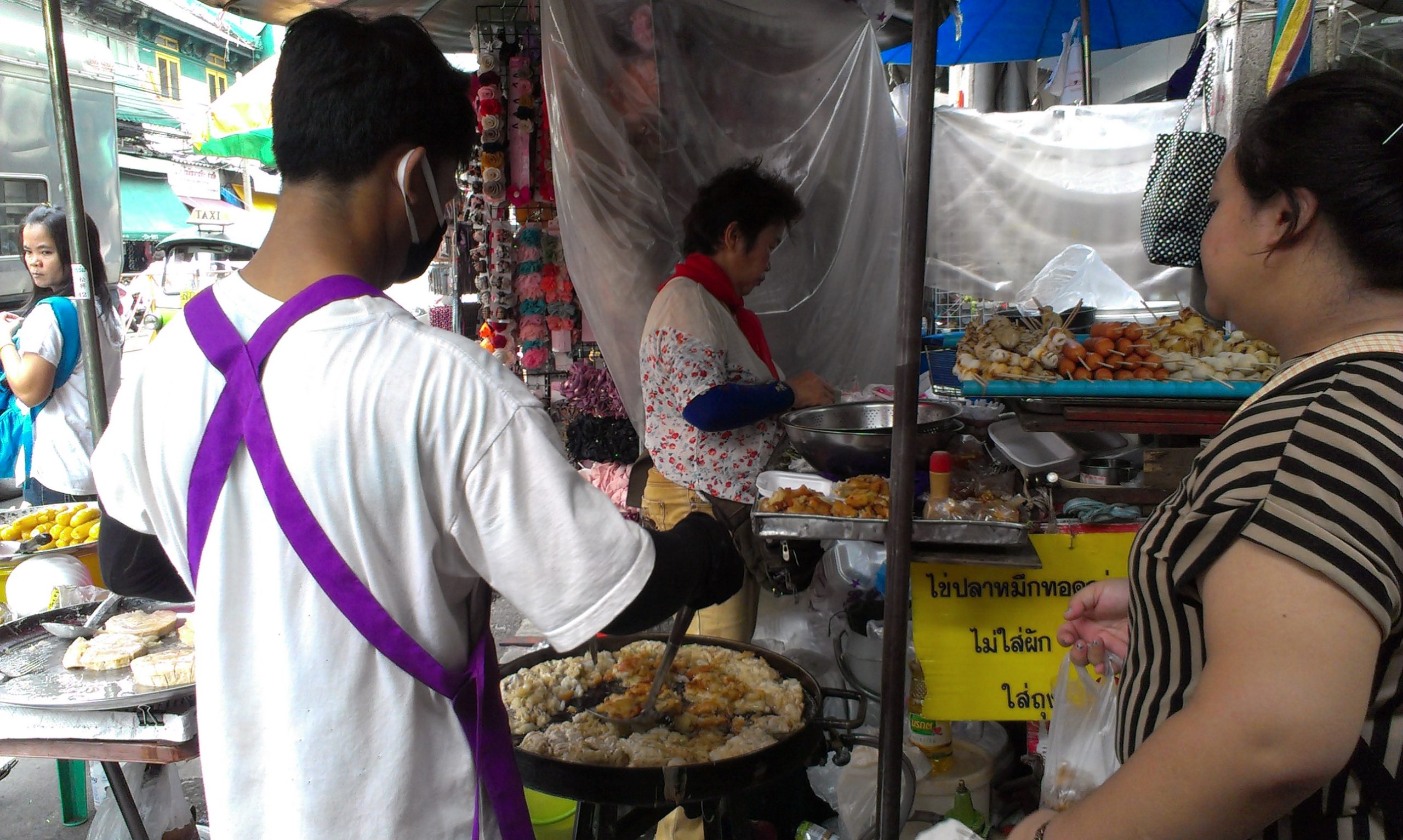 Chinese festivals and celebrations, such as Chinese New Year and weddings, involve the exchange of gold as gifts. Chinatown, being a hub for these cultural events, attracts visitors and locals who seek gold jewelry for such occasions. Many of the gold shops in Chinatown have been operating for generations, building a reputation for quality craftsmanship and expertise in the gold industry. They have established themselves as trusted sources for gold jewelry and continue to attract customers seeking high-quality products.
After tasting yummy food, you can check out some interesting gold products for yourself or for your family members as souvenirs.
Bangkok Chinatown food tour and service provider
We guide for many restaurant to visit, you can create the trip on your own. Otherwise,  If you want to combine tour and food experience.  Check for more information that tour operator provide.
Historic walking tour in Talad noi and Yoawarat
Walking experience during the day and combine with café and small restaurant.
Bangkok Food Tour, the Taste of Thai Food and a couple tour operator provide an evening street food tour which is very interesting. Eat Walk Talk Tour offer historic day tour combine with a street food and small shop. Each tour operator has their own way to present Bangkok Chinatown Food tour. They know what to eat and the best dish you must try. Some restaurants are hidden from the main street you will never on regular walk , if you don't have experience to go to Chinatown, the tour operator or tour guide is the best option for you. It is also quick and easy to participate in Bangkok Chinatown food.