Food tours in Bangkok & Thai Fruits
During May – July , there are a lot of yummy fruit come to the market. There are rambutan, Durian, mangosteen, longan, lychee , Wollongong and etc.
This is a mouth watering for every fruit lover.
So many food tour operators do not miss to add fruit tasting to their program of food tours in Bangkok. I mean some special fruits that come during the fruit season so some tour operator add additional fruit tasting to their program.
There are various ways and time to experience the Thai fruit. EatwalkTalkTour has some recommendation to enjoy Thai fruits .
Check it out.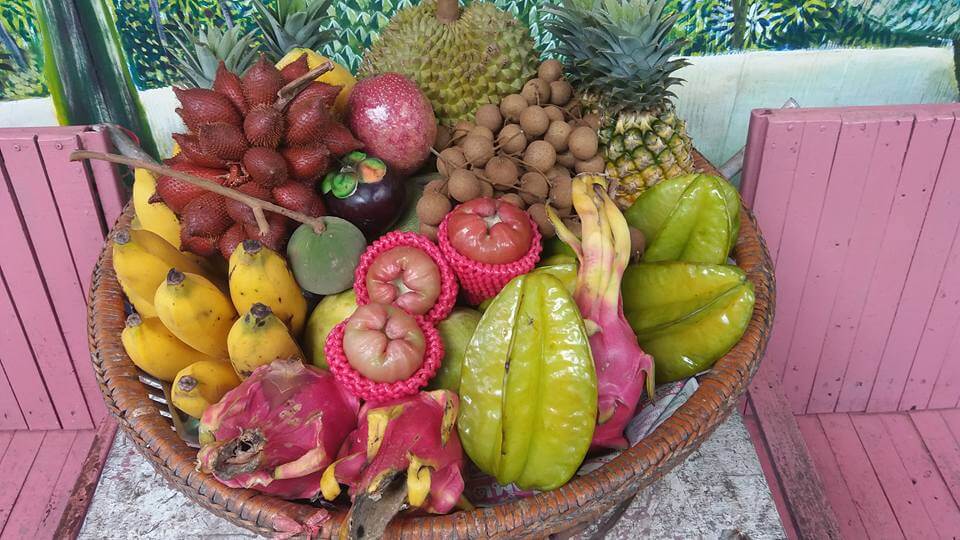 Food tour by visiting the farm
During Durian season, The fruit eating tour is well known for Thai and Chinese tourist. They travel to Rayong and Chantaburi  province for eating Thai fruit. Durian the queen of the fruit is a fruit that they love to eat. It is cheaper and fresher since it grows in that area.
Chantaburi is 5 hours away from Bangkok, this is a land of famous Durian Chan which is famous in Montong type. The Thais love it since it more chunchy & gooey than another type.
Fruit buffet at Pattaya or Suan Nong Nuch
Suan Nong Nuch is a theme park which features cultural show and tropical garden. They extend the business by open fruits buffet restaurant. Everything is unlimited except durian.
You can check it out at Suan Nong Nuch , if you travel to Pattaya.
Food tours in Bangkok & Fruit Tasting
You can experience Thai fruit in different way and places. EatWalkTalkTour would like to recommend an easy way to taste Thai fruits as below.
Fruit cart
Fruit cart sells cheap and simple Thai fruit. You can buy mango , guava, watermelon , papaya , yam and rose apple. Sometime they have fresh coconut , cantaloupe or an apple as well.
You should try chili paste mixed with various seasoning such shrimp paste, sugar, salt, and fresh chili for instance. It makes fruits has more flavor.
Fruit cart is easy to find in every corner of Bangkok. Business district seems to be easy to find them, most office workers will a plastic bag with fruit on the way to return to office after lunch.
The food tour operators will pick their own fruit cart merchant and select some fruits that visitors will enjoy.  Travel with tour operator is one of the easy way to experience Thai fruit and make FOOD TOUR IN  BANGKOK EASY.
 Or Tor Kor Market
We used to talk about this market before, however it is a must recommend for Thai fruit searching. Local go to this market for best premium quality Thai fruit.  During the beginning of the fruit season , the price is quite expensive and hard to find. However, at this market the offer very good quality fruits that you will enjoy.
If you come to this market, you can find the fruit you like. They make it ready to eat .
By the way, the market is very nice and clean. CNN rate this as one of the top market in the world.
Thai fruit buffet in center city of Bangkok. It is located at 18th of Baiyoke sky hotel. The rate starts at 350 THB++ person. Check in at the 19th of the hotel before going down for one floor of the restaurant.
They serve a big dish of Durian for you. Follow by sticky rice and mango. Other Thai fruits are also mandarin orange, corn, yam, papaya,  longan and many lots more. Additional snack is jelly fruit, guava and orange yam, cake, jellied , sorbets , juices , dessert with glutinous and ice cream.
After finishing the buffet, you allow to go to the 84th floor to view skyline of Bangkok city.
After fruit buffet , where to go?
Going to the Platinum shopping mall for shopping apparel , accessory, and cloth shoes. This place is not far from Baiyoke Hotel. Meanwhile, the JJ market or weekend market is next to Or to kor. These two places are on sky train line. You could visit the big shopping mall or some museum such as Jim Thompson Museum or Suan Pakkad museum.
So how do you like our idea for Thai fruits of food tours in Bangkok. We recommend coming for Thai fruits during the beginning of the raining season. The taste of the fruit is very yummy at that time. It is around May – July of each year.