Bangkok, the gateway to South-East Asia serves as an ultimate food stop over for every foodie on this planet. Tasting and trying out Thai delicacies, either restaurant based or street food, both are highly famous amongst the localities and the visitors.
Keeping aside other attractions, traveling to Bangkok for Thai Cooking Classes is a great deal to indulge in. For most of the people, Bangkok Food Travel attracts as the real highlight of their trip to the best tourist city in the world. Get an insight on a food tour to Bangkok by reading our listed foodie-attractions of Bangkok City.
The Food Tour to Bangkok City:
Fall in love with their finger-licking and sumptuous Thai Delicacies!
Cooking Classes:
The Thai Capital offers many ways to get hands on the famous cooking classes at a very affordable and pocket friendly amount for all the Thai food lovers so that they won't be missing them when they get back home. The cooking classes are a must-to-do item on to-do checklist of every visitor who hits the town!
A great number of restaurants and hotels offer cooking classes starting from a very cheap rate of thirty five US dollar per person. In these classes, they teach you how to pick and purchase the freshest ingredients from the market with a little bargaining and help you learn to cook three to four dishes per day.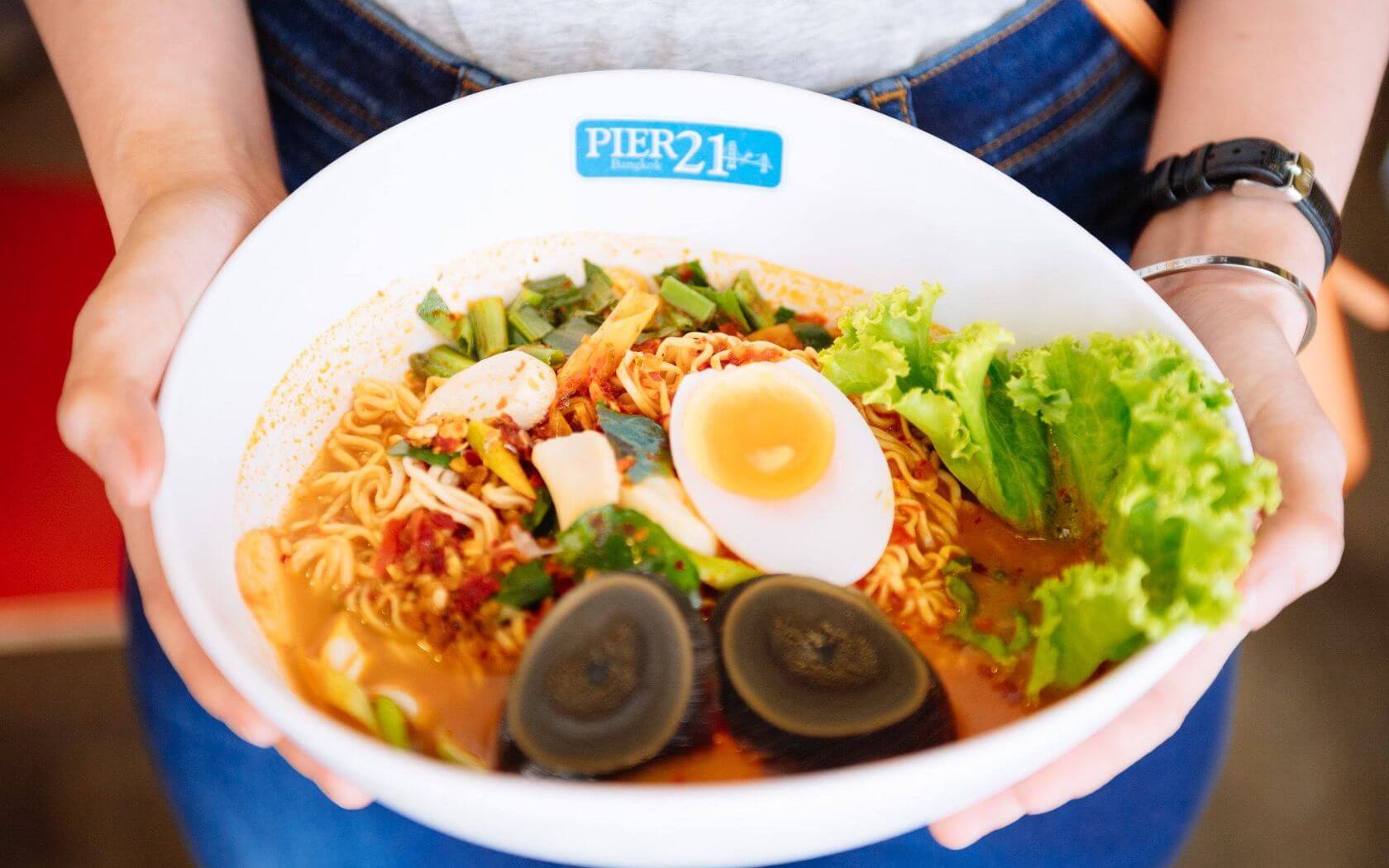 The must-try dishes comprise of Tom Yum Goong (perfect blend of spicy and saucy shrimp soup), Som Tum (savory papaya salad), Tom Kha kai (creamy coconut chicken soup, Gaeng Daeng (exotic red curry) and Pad Thai (fried noodles).
Helping Hands, Baipai Thai Cooking School, Khao, Oriental Hotel Thai Cooking School and May Kaidee's are some of the renown cooking schools in Bangkok to choose from. There are also other cooking class that worth consider. If we have time, we will review for you one by one. 🙂
Our Bangkok adventure tours , we also have easy cooking class by making somtam.
Bangkok's Famous Floating Market:
With the smell of food filling the air, the chaos, and various vendors won't let you go without having great food!
Here you can explore the demanding Thai culinary culture prevailing in three traditional floating markets, which appear similar to Venice destination. With hand-picked and freshest ingredients, exceptionally flavored main courses and mouth-watering sweet tooth, you will be drowned in to the real taste of Thai Cuisine.
Klong lad mayom
Ths is a nice floating market in the suburb of the city. The market in along the canal. The market is open around 18.00-17.00 during weekend only. The market is famous for its wonderful food, beautiful scenery, and welcoming vendors.
Though the market is more of on-ground stalls, there is still a good presence of vendors selling wares from boats. The boats will in some places congregate, making it easier for visitors to shop. The market is particularly appreciated for its abundance of fresh produce. Deeper into the market you will also find clothing, housewares, and toys available for sale. Fresh flowers can be found at the riverside stalls.
Tha Ka Floating market
The genuine Tha Ka Floating market offers farmers to meet up at one place where they could exchange their products. Witness a fun-filled boat ride in a coconut farm while spying the conventional way of manufacturing coconut sugar on your way. Imagine mackerel fried rice and roasted bananas topped with caramelized sweet dip along with some freshly-picked food.
Amphawa Floating Market
The Amphawa Floating Market is a perfect place that houses complete range of Thai snacks and deserts in the evening.
Damnoen Saduak floating market
This is one of Thailand's largest and most famous floating markets, where vendors on boats sell local food and unique pieces. This floating market you can find fresh cooking meal and snack. Fresh fruit and dessert that cooking on the boat are also yummy food to try.
China Town or Yaowarat Road

This place is definitely tempting feast to the tourist's taste-buds. Satisfying the hunger-pangs, they serve scrumptious seafood. Despite the fact that you can easily find tons of hawkers down the street and being placed in the busiest area of the city, China Town has somehow managed to stay tourist's favorite eatery.

Restaurant with Michelin guide award
Visit one of Bangkok's many Michelin-starred restaurants like Kayang Praram9, Here Hai, Pad thai thipasamai or Sorn. These restaurants offer a more refined dining experience and showcase the best of Thai cuisine with a modern twist.
Local Market
Start the day with breakfast at a traditional Thai market like Or Tor Kor Market or Chatuchak Market. Here, you can find a range of local breakfast options like jok (rice porridge), khao tom (rice soup), and kanom krok (coconut pancakes).
Thai bus food tour
This 90 minutes tour (actually, there were many options such as lunch , afternoon, dinner and night life) was amazing. As the bus cruised around the old city. Take luxury air-conditioned coach and Michiline Award Food set meal which including Patthai , sticky rice, and Wanton soup for instance.
Bangkok Food tour
Food tour in the evening and during the day is a fun walking adventure that will help you save time and explore local food with an expert. You can enjoy 5-6 dishes while walk to explore the old city,
A lot of ideas that you can create or set Bangkok food travel program while visit Bangkok. Read more and even review from user experience, you can make your perfect Bangkok food travel perfect trip.
Articles you might like:
Completed guide for Bangkok food tour.