Fun Story, Sightseeing and Idea of Bangkok Food Trip 
Many visitors come to Bangkok and would love to experience Thai food and create their own Bangkok food trip and combine the tour with main sightseeing such as the Grand Palace , the Reclining Buddha or Canal tour . Is it possible when the length of stay in Bangkok is very short ?
The answer is yes, it is possible to do it. You could do it even within a day.
There are many yummy Thai food near main sightseeing. It could be street food , mid range or  high-end restaurant along the river. Therefore, it is so many way to create your Bangkok food trip.
First, let's talk about most famous Bangkok area which is the main sightseeing located. It is located in the old town of Bangkok or Koh Rattanakosin. There are place to eat since a lot of tourists and local people around. Eatwalktalktour would like to talk local market and street food for beginners which has lot of yummy food.
Street food & Market :  Wanglang Market
Talad Wanglang is a market which easy access by ferry jetty .  The market is next to Sirirat Hospital which has thousand of medical workers there , not to mention about patients and their relative which come to this hospital daily. A lot of traffic to this market make it big community and certainly good food on sale.
Recommended dish
Pan-fried crispy mussel with bean sprout  at Ti Yai Shop . this shop also sell Pad Thai which is very famous too.
Kuayjabyuan Khun Deang .
Selling Vietnamese noodle with pork sausage and yummy spring roll. You might wonder why we recommend Vietnamese food. Don't worry as Thai we have chilly sauces and other thing to make it as Thai cooking. This shop is close to boutique hotel at Baan Wang Lang.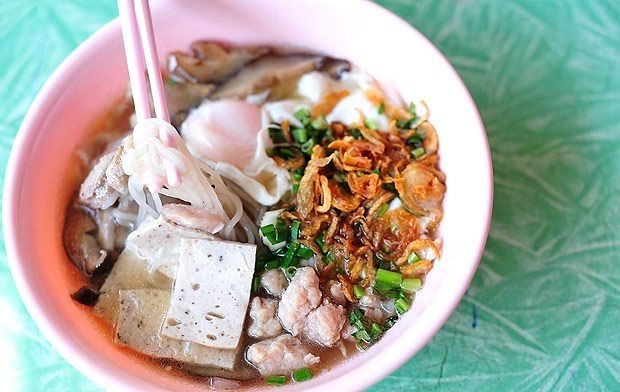 Raan Panee or  Raan Puan
Thai is a small shop run by old lady name Pa Nee. The location of the shop is in the middle of the soi on the way from Wanglang to Sirirat Hospital. The nurse and doctors are always queuing for lunch and to go food. This shop is very well known for the local.  In Thailand, there are  shop selling Kab Koaw .  Kab Koaw is a meal eating with rice . It could be a soup, stir fried, deep fried, curry dishes or etc. Pa Nee selling food in southern style which is quite spicy.     Beside that her lemon ice tea is also very famous and made good sell.
Beside main dishes local people also looking for eat snack or light food here.
This are the listing of snack that you could experience
Moo Tood Wang Lang, Moo tood is a deep fried pork . It is very common to taste salty. Eating Moo Tood with sticky rice very yummy and great combination. The Thai also ways has this for quick meal as breakfast.
Story of Kanom Tang Teak
Kanom Tang Teak is a pancake with coconut and sugar inside. Actually Tangteak in Thai mean bankruptcy .  No history of why Thais make this sweet name horrify  but there were a joke in English class. The foreigner friend asks Thai friend about this dessert >> Kanom Tang Teak
Foreigner : What is this ?
Reply by Thais: Um…uh..the bankruptcy sweet, I think.
Reply by the second friend :  No, it's a dessert of economic failure.
Reply by the third friend : But I think you should call it a broke guy's food.
The foreigner who asks the question was very confusing with the answer and he could not believe why this dessert is so bad for people financially.
Later on, said by the merchant said :  It's a pancake with coconut, sir !
Now if time for you to HAHAHA
Refer  : https://www.facebook.com/permalink.php?story_fbid=881967031865276&id=610798552315460
Our intention is to recommend a couple places to visit however, it seems like a lot of things to talk about Wanglang Market.
Where to go if you want to eat at Wanglang?
You could visit the Grand Palace, Canal tour, Wat Pho and Wat Arun and have lunch at Wanglang . However, if you would like to add some non-touristy place, you could add SE UY museum or sirirat museum which keep body of people who sick one of interesting spot is body of Se UY and guy who is Cannibalism who kill child age 5-10 years and eat fresh hart of human and believe it make him strong man .
You could also add Wat Rankang ,the royal temple where the Thais go to warship and make a donation .
Do you see how easy to create your own Bangkok food trip adventure combine with main sightseeing.  You could go on your own or ask license tour operator to organize the trip for you.  It should be fun and complete your  YUMMY FOOD finding in Bangkok.
Special note, check with another web site of us called , click from this link you could find trip that we already add Wang Lang to Bangkok food trip.