Bangkok is a city that is renowned for its vibrant nightlife and delicious street food. A Bangkok night food tour is an excellent way to experience the local culture and taste some of the best food the city has to offer. In this guide, we will explore where to eat in Bangkok at night, take a tuk-tuk night tour, and experience a midnight food tour in Bangkok. We will also provide some insight into the cost of a Bangkok food tour.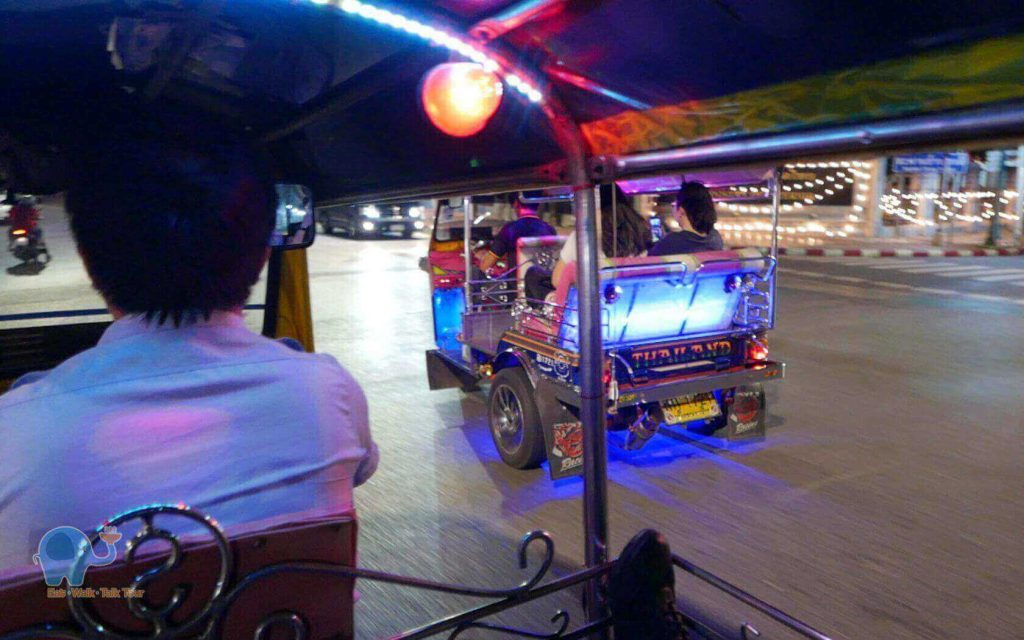 Where to Eat in Bangkok at Night ?
Bangkok is famous for its street food, and you can find some of the best food in the world on the streets of Bangkok. Here are some of the best places to eat in Bangkok at night.
This area is famous for its street food and is the perfect place to start your food tour. You will find a variety of dishes such as dim sum, seafood, and noodles.
Open time : 17.00 -24.00
Recommend restaurant : We are a fan of old school and mom and pop place. This is our famous place that it is hard to find in other small town.
Yim Yim   
Open hours 10.00-14.00 and 17.00-22.00 – Tel 062 396-4255
This place is open for over 100 years. They serve Chinese food cooking in Choajo Chinese style.
Perception of Chinese food in Thailand is luxury cuisine . This place is feeling of that. Loa is
Sesami in Chinese style
Small pork grill with bread and black source.
Goose feet stream with clear noodle
Check out youtube. It is in Thai but you will get better idea how menu look like.
Tang Chai Yoo (ตั้งใจอยู่)
Open hours 10.00-21.30 – Tel 02—224-2167
This is highly recommend hi budget since they serve many exclusive seafood menu such as glass lobster
Recommend street food cheaper than 2 USD –
Chinese Noodle , Kuay Jab Nai Uan (ก๊วยจั๊บนายอ้วน)
Tik noodle with white pepper soup. They add crispy pork . This is similar to bacon but less spicy.
Sukhumvit Soi 38:
This is a popular spot for foodies, which is located between Thong Lor and Ekamai area which surrounded by nice hotel and shopping mall. However, you can find area of food stalls which offer food, drink , alcohol and café at very cheap price.
You can find some of the best Pad Thai in Bangkok here. Other dishes to try include mango sticky rice and papaya salad.
Open time : 17:00- 01:00
Recommend street food cheaper than 2 USD : it should be drink like Thai ice tea.
Due to rent rate in the area very expensive, food price in the area is higher than normal rate that local people eat. It is around 20-30 percent higher local standard but still cheaper than restaurant.
Silom Soi 20
This is a hidden gem in Bangkok, and you will find a variety of street food vendors selling everything from grilled meats to Thai desserts. This area is called Wat Keak (วัดแขก) which is means hindo temple.
This is a center of local people come in the morning to find food ingredient.
Open time : 16.00- 23.00 bye estimate
Nai Meng Keaw Poo Yak (นายเม้งบะหมี่ปู เกี๊ยวกุ้งยักษ์) Noodle
Open 09:00-21:00 – 099 -363-5462
Khao San Road
This is a popular tourist spot, and you will find plenty of street food vendors selling Pad Thai, spring rolls, and other Thai delicacies.
Recommend street food cheaper than 2 USD
Fried insect, beside get to experience top quality protein you can make
Kai jew stall or fried omelet
Jod fair
Jodd Fair Night Market Experience. This is a very popular night bazaar especially with tourists and local people which in the area of Central RAMA IX.
** There is announcement they will move to other location with in 28 Apr 2023.
Tons of stalls that had a lot of food. There was more variety in the food/drink stalls. We saw many triples, quadruples, etc of stores selling the same thing.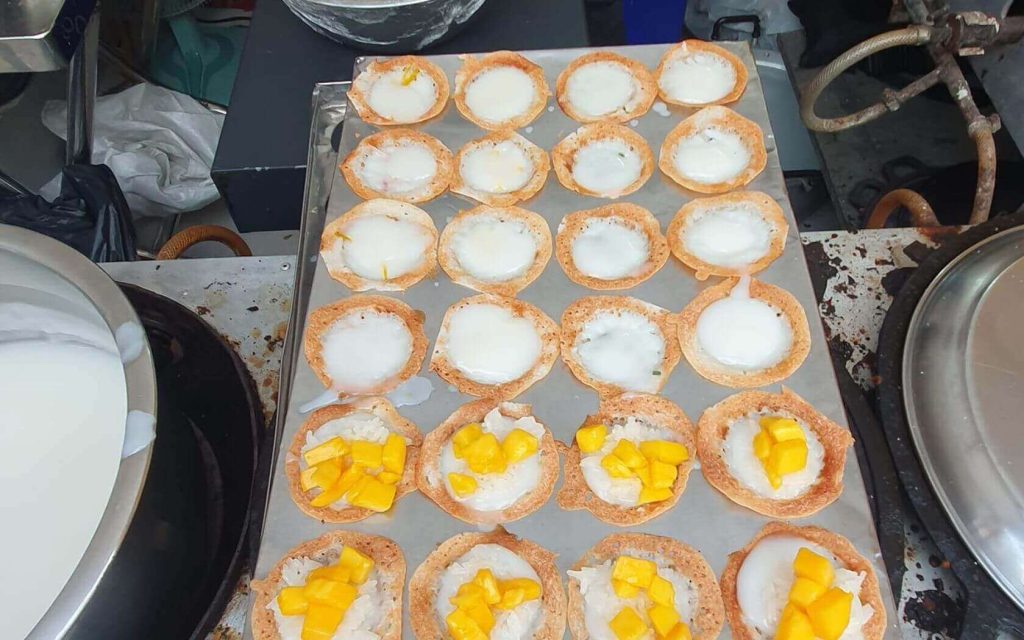 Tips while navigate – there are not many pointers or marked paths that make it easy to explore the whole market in one go without repeating paths. So if you find something you like you can just buy it and look for siting area.
Highlight
They have many eateries but major restaurants serving famous Volcano Spare Ribs soup (เล้ง).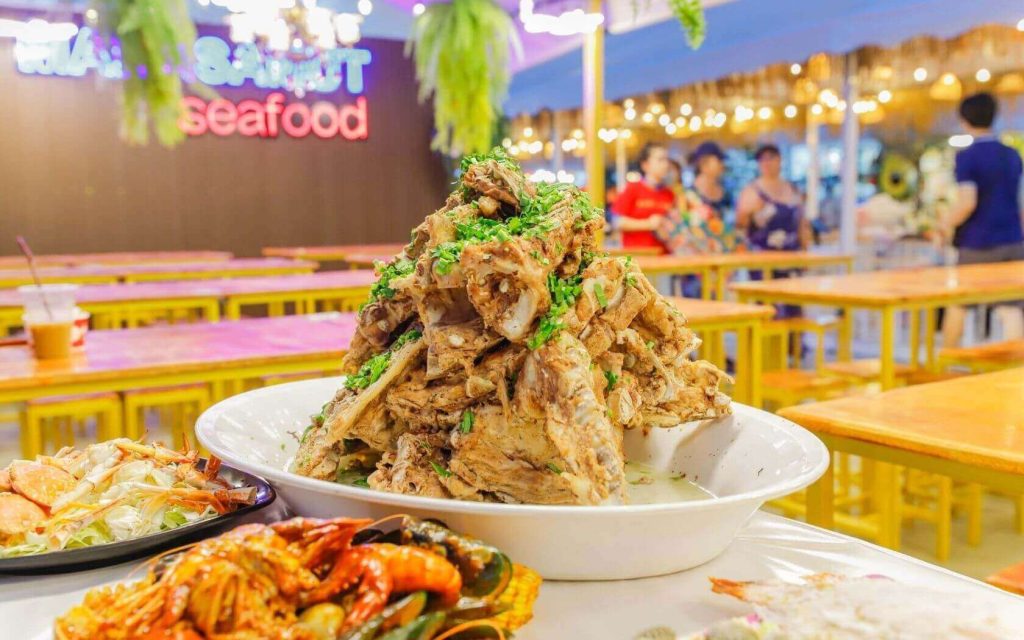 This soup test like tom yum which is eat with rice.
Recommend street food cheaper than 2 USD –
Lot of menu sell in lower price than 2 USD. This is my favorite is grilled fish cake .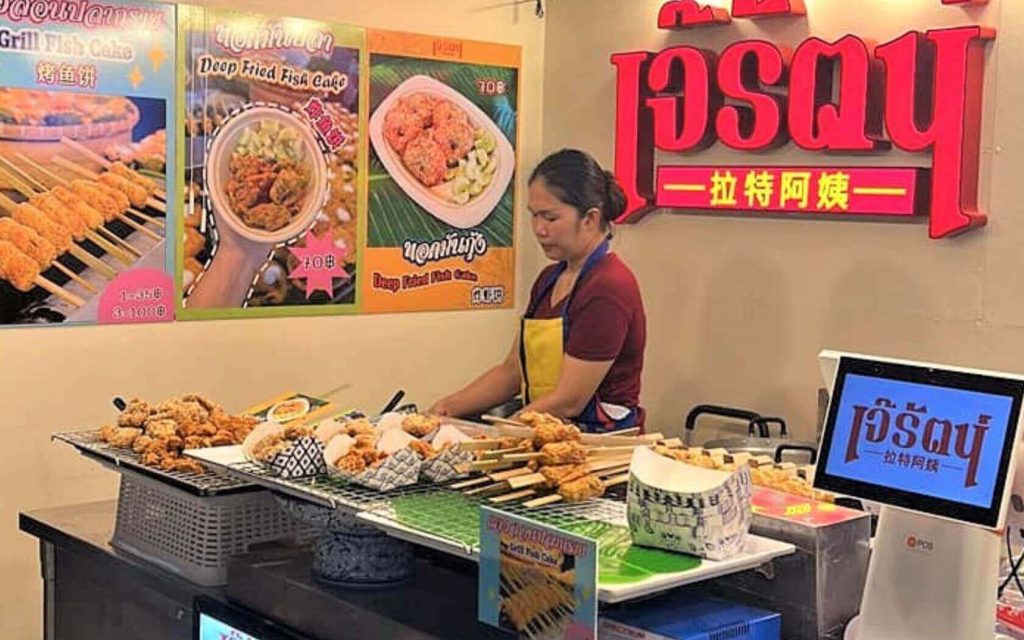 Bantadtong  (บันทัดทอง)
If someone asked , where is the best street for food experience. I would say Bantadtong.
You can find dessert , meal, snack and much more. The length of the street is around 2.2 kms. There are over 40 restaurants that you could visit and taste yummy Thai food.
Open time : 10:00-24:00
Highlight
In the evening,
Eja Suki Mala (อี้จาสุกี้หม่าล่า)
This restaurant is a very long line. It is saying how good it is. Everyone will get your own hot pot . You can select meat, seafood, and vegetable that you like. You cook your own way, make your own sauce. This is a menu influence by Chinese, but I doubt is this similar to the original way.
Location : https://goo.gl/maps/6p31RjyZUEJvTysx7
Open time : 12:00-23:30
Tel : 09-2410-1972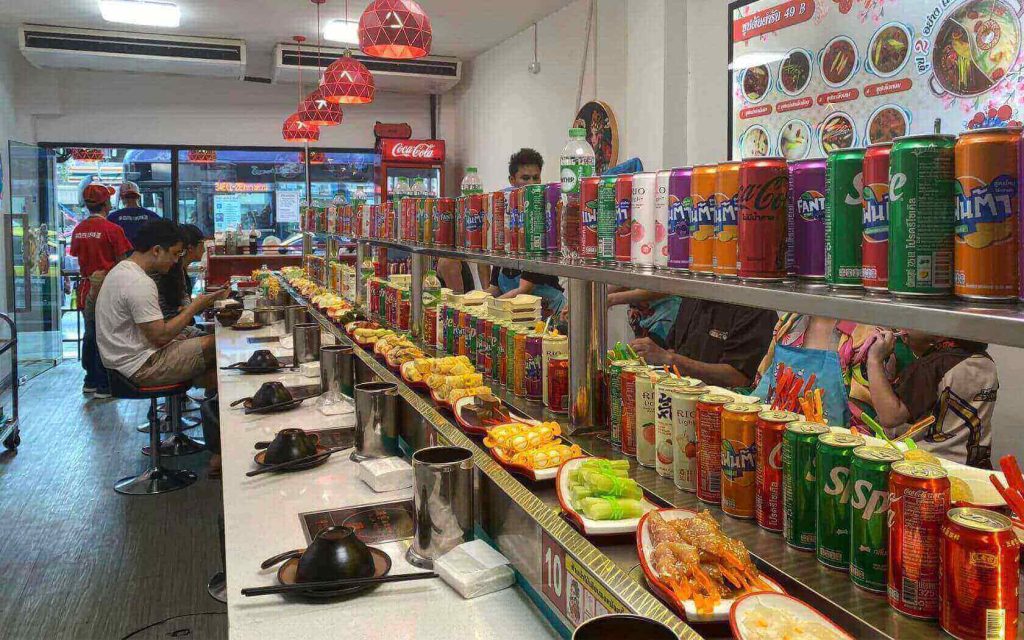 Tom Heang Rom Nuun (Dry Rice Porridge ข้าวต้มแห้งริมหนม )
Our favorite dish is dry rice porridge with marriage mince pork.
They will served soup as side dish. There is also source which is similar to seafood source. It is spicy and sour sauce which make yummy food experience.
This is one of my favorite food which I always buy at Damnoen Saduak floating market. I feel so lucky that these shop serve this menu in Bangkok.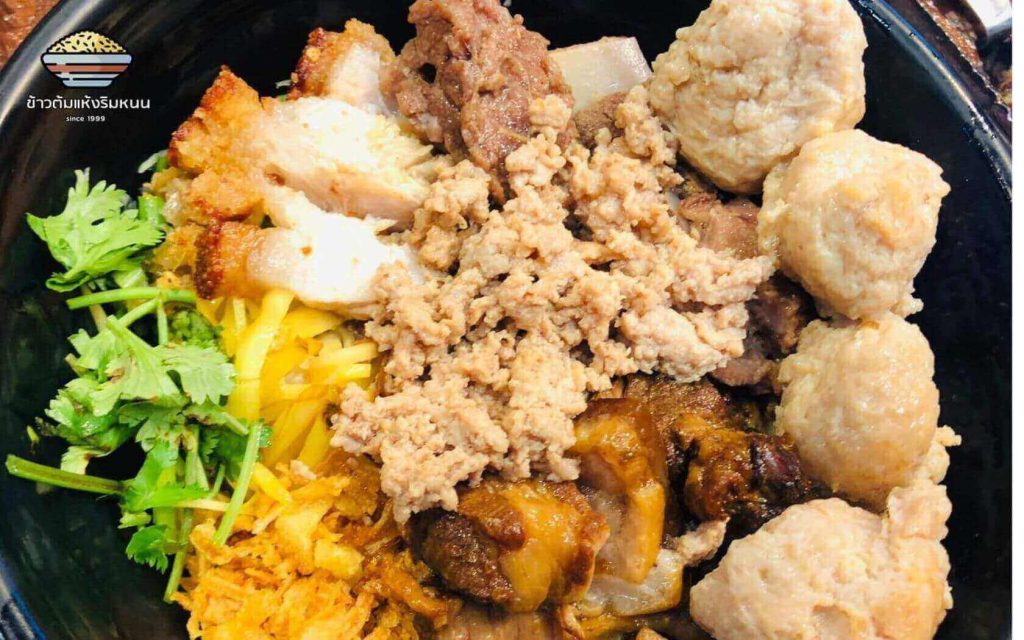 Open 10:00- 21:00
Address : 1622 Rama XI raod, Kwang Wang Mai, Khet Pratumwan, Bangkok 10330
Tel : 096-680-8882
https://goo.gl/maps/PeEaxEeMrKg7kBAz6
Activities at night
Celebrate the Night Life in Bangkok by Drinking and Dancing with Music area. For those who want to combine food experience and night life, you may consider this section.
Just like the day, Night life in Bangkok is fascinating for the tourists. If you have one week tour, enjoy your days and night in a unique way. At night, the Bangkok shopping stores remain open for sightseers. You can purchase gifts for friends, spend your time in listening music or eating your favorite food. If you are enthusiastic, join the dance parties and chill out.
Drink
Though the nightlife is beautiful, but the tourists have to select the places carefully. There are some places which are infamous due to drugs or other illegal activities. Most of the bars get closed till one AM , but all night activities come to an end till 2 AM.
Silom
Silom is the famous party area. Here, the sightseers can drink and view the city on the rooftop. The open air bar, full of light city area and eye-catching view has made the Silom the best entertainment place. Barsu hotel at Sukhumvit road has a variety of drinks. It is an ideal place to come with friends and spend the leisure hours. There are many gay sites in Bangkok, but the DJ station is on top of the list. It is situated at the Silom road. Check out our service for nightlife in Bangkok.
The sky bar at The Dome and Moon bar at Vertigo
The two places are bar restaurant with stunning view of Bangkok
Music:
For people, who love to listen music, Glow nightclub is the right place. Here, local as well as international music is being played. To celebrate Nightlife in Bangkok, Spasso has something different for visitors. The music parties continue late at night. For live music, nothing can be compared with Brick Bar. It is situated on Khao San Road. The weekends are special because great crowd come to enjoy the music here.
Dance:
Slim and Flix on RCA has two stylish dance rooms. Each room has a certain kind of music. One room is chosen for pop music in Thai language, whereas the other dance room has hip hop. For a dazzling Nightlife in Bangkok, do not forget to visit Narz Bangkok. It is designed to appeal the tourists. Off and on, international DJs are invited here to perform. It has a great dance floor for the dance lovers. Route 66 is also a very famous dance club at RCA , They have 2 rooms including international and Thai music.
There are a lot of dining places such as Supatra river house and top roof restaurant along the river as above article.
Any upscale restaurant
Before your tuk tuk food tour Bangkok end, you may consider to returning to Wat Pho which allow visitor to see inside in the evening.
We hope you like our idea for tuk tuk a food tour Bangkok, lets us know if you follow our route. We love to hear from you.
Night view of Bangkok
A cool place that we recommend to visit to drink or chill out and enjoy great view at the top roof hotel of Baan Wang Lang, Sala Rattanakosin or Arun Resident. These hotels are on the Riverside and have rooftop restaurant . The view of temple of dawn and the Grand Palace is magnificent.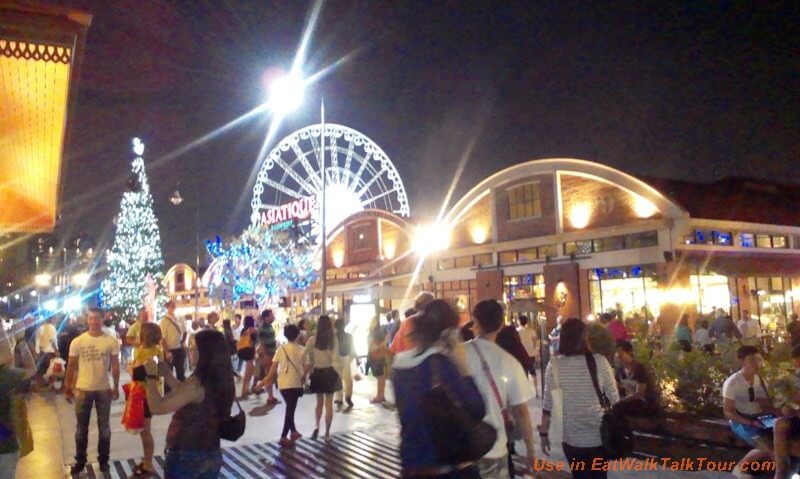 Experience Street Food
Top recommend street food is included Pad Thai Tip Samai , the most famous Pad Thai Shop that is well known for over 50 years. They open at 17.00 and a long line of Thai people and foreigner come to wait for to get a seat.
Street noodle called Yentafour. It is a pink soup, rice noodle with various kinds of topping. Personally, I do not link this kind of noodle since I think it is boring taste. This street food shop changes my attitude after the first bite. It is so yummy. The combination of spicy and sour is very well blending. The location is at Pratupee intersection which is not far from Pad Thai Tip Samai.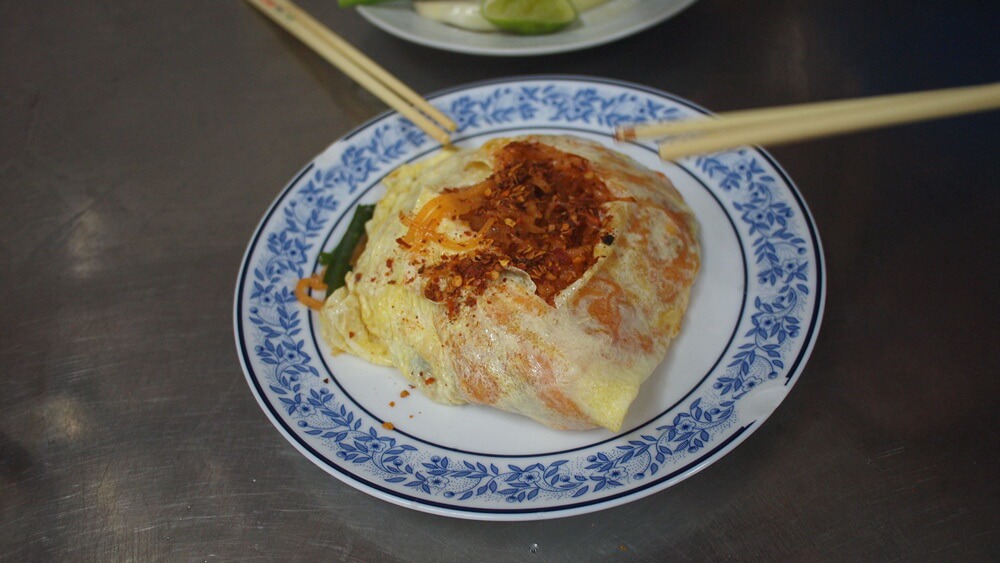 More food on this street such as Lad nar 40 Pee ( forty year old tick noodle) , Mit ko yuan ( selling alacart food ) , Pork ball and spicy dipping, duck noodle, bread bake with green sauce at Mon Nom sod and etc. There are many interesting street food that is not listed here. If you travel to Dinsor road area , it is very easy to find good food.
Tuk Tuk Night Tour Bangkok
What is a Tuk Tuk ?
Tuk tuk is a signature vehicle of Thailand. It is colorful, loud engine, fast, and small. Many tourists want to experience this fun ride while visiting Thailand.
Tuk Tuk is a motor tricycle, it was first imported from Japan to reply tricycle which doesn't allow to use in Bangkok in 1960. Currently, Tuk Tuk is produced in Thailand and export to another country.
Samlor Singthamdamrong has use car engine for 150 CC and increasing efficiency of the body , back gear system and stability on running. With the flight weight and domestic produce , tuk tuk has been used and modify up till use car engine at 650 CC.
A tuk-tuk night tour is an excellent way to explore the streets of Bangkok and try some of the best street food the city has to offer. A tuk-tuk is a three-wheeled vehicle that is common in Thailand and is perfect for navigating the narrow streets of Bangkok.
During a tuk-tuk night tour, you will be taken to some of the best food spots in Bangkok. Your tour guide will take you to different locations, where you will sample a variety of dishes. Some of the most popular dishes to try during a tuk-tuk night tour include Pad Thai, Tom Yum Goong, and mango sticky rice.
Midnight Food Tour Bangkok
If you are a night owl, a midnight food tour in Bangkok is an excellent way to experience the local culture and try some of the best street food the city has to offer. A midnight food tour typically starts at around 10 pm and runs until 2 am.
During a midnight food tour, you will explore some of the best food spots in Bangkok, and your tour guide will take you to different locations where you will sample a variety of dishes. Some of the most popular dishes to try during a midnight food tour include grilled meats, seafood, and Thai desserts.
How Much Does It Cost for a Bangkok Food Tour?
The cost of a Bangkok food tour can vary depending on the type of tour and the number of people in your group. A tuk-tuk night tour typically costs around 1,500-2,500 baht per person, while a midnight food tour can cost around 2,500 baht per person which is around 80 USD.
If you are on a tight budget, you can still experience the local food scene in Bangkok by exploring the streets and trying different dishes. Street food in Bangkok is affordable, and you can find delicious dishes for as little as 20 baht.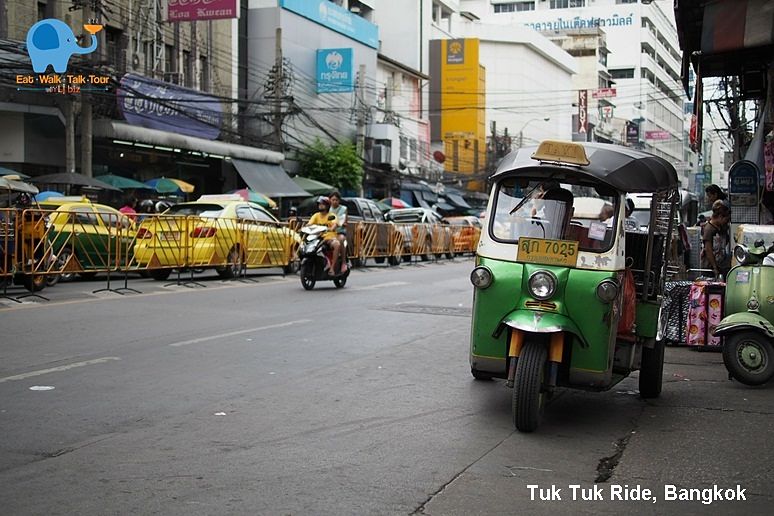 Conclusion
A Bangkok night food tour is an excellent way to experience the local culture and taste some of the best food the city has to offer. Whether you choose to take a tuk-tuk night tour, a midnight food tour or explore the streets on your own, you are sure to have a memorable experience. With so many delicious dishes
More information about food tour
Complete guide for Bangkok food tour
Food Tours Bangkok and Main Sightseeing