[vc_row][vc_column][ultimate_heading main_heading="Thirsty? Want some Thai Drinks?" heading_tag="h1″ spacer="line_with_icon" spacer_position="bottom" line_height="1″ icon="Defaults-circle-blank" icon_size="32″][/ultimate_heading][/vc_column][/vc_row][vc_row][vc_column][vc_column_text]When we are going on with Bangkok walking tour or Bangkok food tour? Often enough that it is hot and humid.  So getting some drink which cool and sweet will certainly help everyone fill refresh and re energize? Do you want some drink?  Or Perhaps Thai drink.
Thai drink or Non Thai drink
A lot of drink that we are going to talk about is hardly say Thai drink.  But it is common to find in Thailand and popular among the Thai.
Thai Drinks are made of fruit, vegetable, tea, and coffee. You can find the shop from drink stand, drink corner in restaurants and cafeteria, high-end place and convenience store.
Drinking Business
Drinking business is a big market cap that people spend a lot of money to buy it. Sometime people do not realize that they spend more for the drink than a meal.
What is Thai drinks?
What people normally drink for refreshment in Thailand.  We have sweet herbal Tea and Thai coffee. But we are not main coffee or tea producer nor trader.
We have many local drink which name in Thai, unique taste. We pound to present some of them what you may interest to know.
Oliang or Oleang (โอเลี้ยง) 
Oliang is a mixed black coffee and sugar with ice.  It is not pure black coffee. Oliang consists of coffee, corn, sesame seed and tamarind seed mixed together. There is a ready made powered premixed Oliang at a local market.
Tung Kafea or a cloth bag attached to a metal ring is one of a must equipment to use. You can find Oling everywhere in a high-end restaurant, convenience store or street vendor.   But you must look for street vendor or old shop run by an old Chinese man who make fresh Oliang which consider authentic recipe.[/vc_column_text][vc_empty_space height="16px"][vc_single_image image="3276″ img_size="full" alignment="center" style="vc_box_rounded" css_animation="fadeInUp" img_link_large="yes" title="Oliang – Picture from www.foodspotting.com"][vc_empty_space height="16px"][vc_column_text]
Fruit slush or smoothie shop 
This drink is made of a blend or mixed many things together such as lime, apple,  watermelon  longang, melon, coconut , banana and etc. Then, adding syrup, water and salt together with fruit. Just select one or two fruits are enough. Otherwise, it will be weird taste.
Where can you find this drink ? It is everywhere. Street food vendor, food court, hotel , and restaurant  serve fruit slush. However, some high-end place tend to concentrate rather than a fresh one. Local people will go for the one that serve fresh fruit.
Our Bangkok walking tour also adds the stop at a local smoothie shop for you to experience.
our tour we also have some stop at very local smoothie shop
Water adding U Thai tip (น้ำยาอุทัย หรือ หยดอุทัยทิพย์)
If you visit Thai family 20-30 years ago, they will bring a welcoming drink with in light pink watercolor which smell flagrance.
The pink color is from Nam U Thai Tip (น้ำอุทัยทิพย์)which is consist of condense all kinds if herb and flowers .
Just drop U Thai tip for 1-2 drop and mixed with cool water, the flagrance drink is ready to serve.
Now, U Thai tip is no longer famous in each household, but the product still existing in the market. Teenagers sometime use it to color their lips as well.[/vc_column_text][vc_empty_space height="16px"][vc_column_text]
Thai Iced tea (ชาเย็น หรือ ชานม)
Thai ice tea is consists of ice tea power, sugar, condensed milk and water. Once it's mixed well in hot water. Put ice on to make it cool or you can drink it hot.
A few years ago, CNNGO rank Thai Iced tea was ranked #27 of the top 50 drink in the world. Thai iced tea is drink recipe that sales at Thai restaurants around the world and anywhere in Thailand.  Each restaurant has their own recipe. Some are more sweet than another one. It is depends on personal preference.
Nam FUG Kaw (Gac fruit น้ำฟักข้าว)
Gac is a climber tree growing in Thailand, South of China, Myanmar , Vietnam, Cambodia , Malaysia and Philippine. It has nutrition and medical benefit such as enhance your lung, release skin rash, help with cool fever and etc. Recently, I saw the drink made of Gac fruit at the Bangnamphung floating market. It tastes yummy with a bit sweet and sour.
Fresh coconut
Fresh coconut is not very sweet expect at Damnern Saduak and Ampawa. They grow Maprow Nam Hom (มะพร้าวน้ำหอม)It is best to taste them and young coconut meat which is so yummy.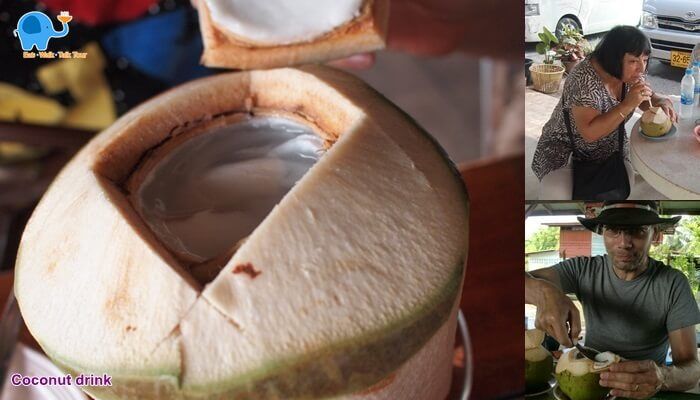 Chinese Medicine Shop in Chinatown
Chinese shop they sell. Chrysanthemum tea, Louhang Guo, Soymilk drink and Bai Boa bok drink. It is a sweet drink as herbal smell. You may try it when you join our China town tour.
There is another Thai drink that you can explore. Such as lemon glass, ginger drink, Krachai dam, Bai toey, and some Thai liquor.  I can say that if you are in Thailand for 20 days. Every day, you drink new Thai drinks, it would not be repeated.
Now  a day, many products above is a valid in the market , convenience store, grocery shopping and modern trade.  Even fresh coconut juice is valid in the bottle. This is so convenient for us .
Hope reader knows how to stop thirsty with Thai drinks while they visit Thailand.[/vc_column_text][/vc_column][/vc_row]