Bangkok food tour night life
The most colorful and interesting place at Bangkok night is a long river riverside. View of the Grand Palace, Wat Arun , colorful bridge and building along the river are very nice. The main highlight of Bangkok decorate with the light make it worth to enjoy the view and create a memorable night.
This article is going to introduce you to easy Bangkok food tour night time. The most easiest way to arrange the trip by simply book dinner cruise. There are 13 cruise operators to service the tourist. It could categories for buffet food, and set menu. There are also luxury cruise and traditional rice barge.
Bangkok food tour night time with Rice Barge set menu service
Manorah Cruise
Beautiful Small teak cruise can arrange by private or join cruise via Anantara Hotel or travel agent.  The rice barge is very nice decorated to host all guests.  The welcome drink and snack (Mean Kam ) are served after seated. They offer 2 set menus as gold and platinum package . Each set menu has rate and number of dishes. There are 5 courses for starting. It is included sea food such as scallop, Tom Yam soup, Chicken and sea bass. The food serves in small portion in fusion food style. As the cruise operated by 5 star hotel. The beverage and add on service is quite higher price than the local restaurant rate.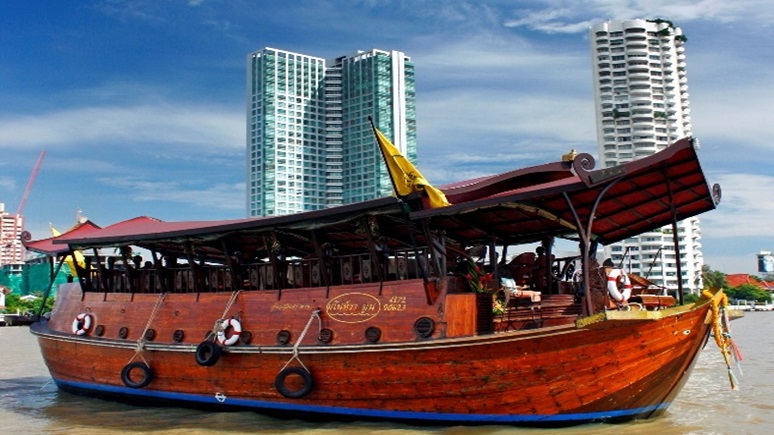 Absara Cruise
Absara Cruise is converted from the traditional rice barge. They run for 2 hours. The cruise operated by the Banyan Tree hotel. The traditional cruise is well designed inside decorated with counter bar make a beautiful mixed between modernizing and traditional. The cruise departures at 20:00. It is quite late compared to other cruises however, it is less crown when the big boat gone. It is very nice when the cruise pass main sightseeing such as Wat Arun, the Grand Palace , Wat Pho and etc. You could take snapshot of great memories of Bangkok night.
Thai set menu is served along the trip.  This is a perfect romantic dining for honeymooner.

Loy Nanava Cruise
This is a lovely way to get a sense of the city, The cruise is totally traditional rice barge.  They serve set menu with 3 selections including Thai set, Seafood and vegetable. You can select one as you prefer of mixed the menu. Highly recommended to pick the seat at the back of the boat which is stunning view even it is quite loud noise.  They operate the tour at 18:00-20:00 and 20:15-22:15 . We think it is best to join the trip at 18:00 so you could see a nice view before and after Sunset.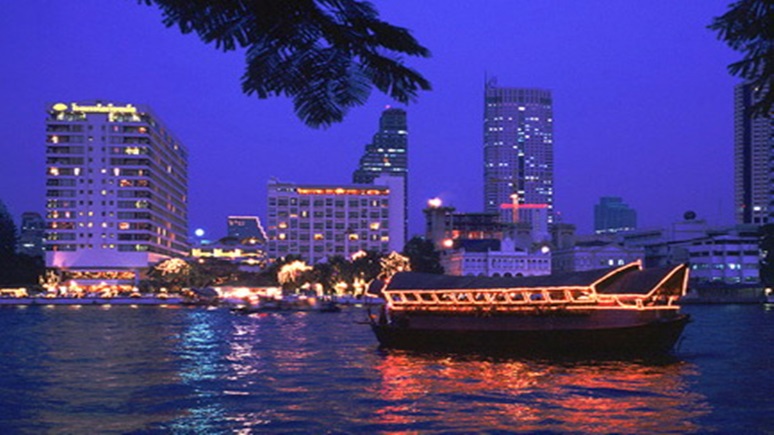 Dinner cruise is one option for  Bangkok food tour night time.  You could take it easy and enjoy Thai dishes and stunning view at night. Read more review about food and service of the cruise, surly you will get the cruise suite for your wonderful experience.