Charming route of Bangkok Walking Food Tour
We have been so many itineraries to make Bangkok Walking Food Tour.  There is a tour that you can reserve with a tour operator or organize trip by your own.
Today it is time to introduce afternoon Bangkok walking food tour around the old city area or Rattanakosin Island.  There are so many highlight in this area. If tourists want to see most of sightseeing, it may take a couple days to do it.
Draft itinerary half day Bangkok walking food tour
12:30 Midkoyuan for late lunch
13:15 Walk to King RAMA VII Museum or Prajadhipok museum
Nittat Rattana Korsin Museum as additional in case your visits Rama 7th museum finish quicker
15:30 Continue to Wat Ratchanadda
16:00 Mon nom sod or Kor Panit
16:30 Wat Suthat, you may join meditation & chanting session which run from 18:00-19:00.
17:00 Koa San Road
What is so great about this Bangkok walking food tour?
It is a non touristy sightseeing program combine with the famous food shop.   Sightseeing in trip is not in the list of top recommend. However, the beauty and uniqueness of those places are not less than main sightseeing at all.
Midkoyuan  on dinsor road next to Bangkok metropolitan
The restaurant has been in service over 60 years. Stepping in the restaurant makes me feel like turning the clock back. Retro style decoration of restaurant of Thailand in the 60s, ads and menu rate when the noodle price was 10 baht per bowl are awesome. Exotic dishes that you may try included stew ox tongue, and boil cockle and seafood source.  Kao pa rod fai or special fried rice, Tom Yam Koong and Mee Krob are recommended menu that every table is ordered.
After filling up your energy with yummy meal , It is time to digest and walk around the old city.
We recommend walking to the north of the street to the Democracy monument. Turn left along Ratchadamnern road to Yeak Pan Fah , five intersection which is a canal and city forth standing. Across the road go to the green colonial building, this is a location of King RAMA VII Museum or Prajadhipok museum.
King Prajadhipok or King Rama VII is the last king who ruled the Kingdom of Siam with absolute power. He was the 75th child of King the Rama V and younger brother of the King Rama VI. The museum feature event and the story when he was alive. It is included showcase of his belonging, pictures, microfilm and movie. The museum displays his story before the King was born, since colonization period. Later on , introduce about his education, ordination,  marriage life, work and after his abdication till his pass away.
You could spend time here for 1 hours or more. The museum open Tuesday to Sun day from 09:00-04:00 p.m.
Walk out to Ratchadamnorn road. If weather still warm, go check out at Nitasrattanakosin museum. The museum is an interactive self-learning style talk about history, art and festival of Siam in Bangkok period (Rattanakosin Period). There are 7 sections of this museum. There are including the introduction of old communities of Bangkok , model of the art form with detail explanation, Thai dance and performance and many more. This is just small part of it. I am sure beside cool air, you could learn so much more about Thai art and culture here.
Continuing your Bangkok walking food tour to  Wat Ratchanadda. The black roof tower is called LOHA Prasat. The tower top with 37 spires in traditional Thai style. It is consider the third loha prasart in the world which is initiate by the King Rama III. Going to the top of the spire you could see the beauty of Golden Mountain and old Bangkok city.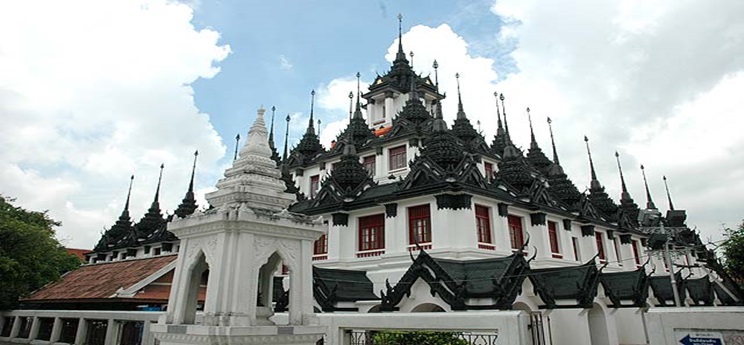 Then, walking back to Dinsor road, get Thai ice tea for a break. The yellow sauce with toast so called Sankaya is a famous dessert menu of Bangkok people that you should try.
Or go to Kor Panit which is not far from Choapor Sua shine to test the best mango and sticky rice in town.
Next, go to Wat Suthatthepwararam. The temple is easy to find since it stand in front of the Bangkok city hall. The Gain Swing is in the front of the temple , the landmark were used as symbolic of the Tourism Authority of Thailand.  This temple has stunning hall decorate with many beautiful craft stone and bronze Buddha statue. Surely, you can get a lot of beautiful snapshots in this temple.
Continue your trip to the Democracy monument , make right 25 times. You can see Khoa San road. The street is well known for backpackers. Shopping, making fake id, braiding hair, massage or street food sampling are fun here. Cheap Pad Thai, fried scorpion, fried silk warm, and solid restaurant can find here. You can be here till midnight to have fun.